How To Use Video to Promote Affiliate Products
Often the first thing that springs to mind when you think about trying to promote affiliate products with video is fear. Fear of the expense involved, fear of coming out from behind the curtain, and fear of lack of technical knowledge.
However, having a video marketing strategy for your affiliate marketing business is really not all that scary. Over-the-top expensive websites and extensive software are not necessary either. It just takes a few tips and some knowledge and practice to get it just the way you want it. Here are 5 steps on how to use video to promote affiliate products.
5 Steps For Using Video To Promote Affiliate Products
1. Choose A Product To Promote
Obviously, your first step is to choose the best affiliate products to suit your target market. You could have the best video marketing strategy and all the technical video skills but if you have a poor product you'll be wasting your time. Make certain you have a product that has a proven sales record in a market that you are passionate about.
Look to see if you can create a deeper niche for your product. Look at your target audience. For example, if your target market is weight loss, perhaps busy mums will benefit most from your product, like a home exercise program  By delving deeper into your niche, you set yourself aside and apart from the rest of the crowd. ClickBank is a good place to seek a great product. Do the research and make a good choice.
2. Set Up a YouTube Account
Creating a YouTube account is as simple as setting up an email account. You input your information, choose a user name and password, answer a few questions and you're ready to go. Check in your email account and click on the link and you will be registered and after verification, you can log in to your YouTube channel. You can also choose a username for your YouTube channel. Be certain to use either the name associated with your business or go the keyword route by choosing appropriate keywords users will likely search. You can then also choose what and how you want to share your video.
3. Shoot Your Video
Web video marketing does not necessarily mean that you have to be in front of the camera.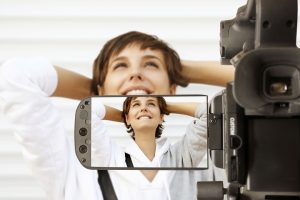 Many marketers promote affiliate products with video and never actually appear in the video themselves. Instead, they use screen capture software that records your voice and shows what is on your computer screen while recording. This is a great way to show a presentation.
There is free video marketing software available from Jing that lets you capture basic video, animation, and still images and share them on YouTube. You can also try Article Video Robot that allows you to create videos from written content that you may have produced for articles or blog posts.
If you are happy to be on camera, your smart phone or tablet will have a build in video camera that enables you to quickly shoot a video and get it uploaded to YouTube in a matter of minutes. These instant videos often have more appeal than professionally edited versions.
FREE Checklist: How To Market Your Business With Video

4. Don't Forget Your Keywords
YouTube is the 2nd largest search engine (you know who's number one!) and processes more than 3 billion searches a month. There are over 4 billion videos viewed each day on YouTube so when you make a video, you want it to be seen. You still need to choose the best keywords that will match your product and create the best headlines. A great way to create a catchy headline is to make it unique, short, and simple.
5. Upload To YouTube
Next, upload your video to YouTube and you're all set to market and promote your products. You can also embed your videos directly onto your website. Simply click on the 'share' button below your YouTube video and paste the URL code into your website page. You can also amend the size and player controls for the video by clicking on the 'embed' link and choosing the relevant options.
Everything You Need To Promote Affiliate Products With Video
It's important to have a video marketing strategy for your online business. There are over 1 billion people using YouTube every month so you have the potential to reach a huge audience. Videos add life to your online marketing campaigns and transform static, traditional online content into action-driven messages that project your message in a powerful, dramatic way. It's now easier than ever before to create a professional high-quality videos to promote affiliate products. You can produce videos your audience will love in minutes (not hours or days) even if you have absolutely zero video experience.