Are You Using Videos For Marketing?
If you ask some online marketers if they use videos for marketing their online business they run screaming for the hills. Why, when it can be one of the easiest ways to make a profit online?
Video marketing is becoming more and more popular on the internet and with over 1 billion people using YouTube every month you have the potential to reach a huge audience who are looking for your products and services.
Video marketing is not as complicated or scary as you might think that it is. Let's take a look at how your online business can benefit when you use videos for marketing.
Videos For Marketing Online Has Never Been Easier 
You can use videos a number of different ways, including sales pitches, tutorials, launch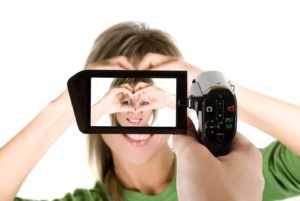 sequences on your website, or to simply develop brand awareness. The more people
see you or hear you, the faster they'll recognise your brand on the spot. Video can leave an everlasting impression, providing the perfect interactive vehicle for your marketing message and it can help with your websites page ranking in Google.
1 .You Don't Have To Be On Camera
Some online marketers don't like using video for marketing because they don't want to get in front of the camera.  But many marketers make videos and never actually appear in them themselves. Instead, they use screen capture software that allows them to show what is on their computer screen while recording. This is a great way to walk someone through a process, or to show a presentation.
Before you begin to think that video marketing is too expensive, you should know that you can actually get free software in order to create your videos. Jing is a free computer service that lets you capture basic video, animation, and still images, and share them on the web.
2. It's Free To Upload Videos
When you have created your videos, it is time to upload them to popular video marketing websites. All of these are free to join. It's important to submit your videos to as many sites as possible for maximum exposure. Your first choices should always be YouTube and Facebook. But also check out
While the video is being uploaded, you will have the opportunity to submit and description. Be sure to include your keywords as well as adding your website address to the description field.
FREE Checklist: How To Market Your Business With Video

3. It's Quick And Easy 
You no longer need to be a technical whiz to work video marketing software. Apps such as Twitter's Vine, with its six-second maximum clip length, have dramatically increased the opportunity for businesses on a limited budget to use videos for marketing. If you are willing to be on camera, your smart phone or tablet will have a build in video camera that enables you to quickly shoot a video and get it uploaded in a matter of minutes. Often these instant videos have more appeal that professionally edited versions.
4. You Don't Even Have To Do It Yourself
There is video marketing software that allows you to develop dozens of high quality videos very easily from existing content you've already written. This software makes it easier to get more videos out there and is very easy to use. Check it out Article Video Robot here.
If you feel that you don't have the time to create videos for your products or services you can still benefit from video marketing. There are many people on the internet that will create videos for you. Fiverr.com is a great place to get these videos done, and they will only cost you $5 each! You can also have the videos submitted for you for another $5. If you do choose this route just be sure you research the best sellers before spending any money because it's your brand and products that they are representing.
Everything You Need For Videos For Marketing Online
It is important that you begin using videos for marketing your products and services online. Whether you create your own products or if you're an affiliate marketer, videos enable you to tap into a huge source of traffic that you may not otherwise expose your website to if you were just submitting articles or joining forums. Discover how to take full advantage of using videos for marketing online without ever having to create a single video yourself!