Why Webinars For Your Business Make Sense
Chances are you've heard about webinars. You've probably even attended a few. That's because webinars are extremely popular right now. All of the big name gurus, big and small brands are using them to take their businesses to new levels.

If you've not done so already, you should be hosting webinars for your business. Why? There are a lot of reasons why the webinar business model works better than other marketing models for boosting engagement, building your list, making sales and improving your business profile. Let's look at a few.
FREE Checklist: How To Plan, Host & Profit From Webinars
What Are Webinars For Your Business?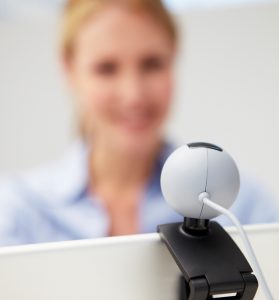 Let's start by defining what are webinars. A webinar is simply a web based seminar where you can share valuable information with a target audience. Notice the word target. This is one of the most important benefits of webinars.
Since the audience has to register to attend a webinar, they're already interested in the topics that will be discussed. This means that they are highly targeted and convert better than other types of traffic.
One of the magical aspects of webinars that makes them so effective is a one on one connection with the audience. Besides being able to demonstrate a product, service or idea, your voice can engage with your leads and your personality and credibility can keep them around for a lifetime.
Build Brand Awareness
One of the best ways to build brand awareness online is by offering webinars for your business to your prospective clients and customers. You can hold free webinars or you can charge your audience to attend. It really depends on the goals that you wish to achieve.
The main goal of the webinar should be to provide value. You want people to leave the webinar thinking you're an expert and the one they should seek out when they need help. The more webinars you have,  the more brand awareness you'll be able to build and the more you will become the "go to" brand in your niche.
Promote A New Product
The reason that webinars are so useful for product launches is because the webinar platform offers various media that can be used to present ideas. This media is much more powerful than a simple text sales page.
There are videos, images, desktop sharing, Powerpoint slides and a lot more. For this reason, product launches and webinars go hand and hand these days. This is because webinars are a sure way to increase sales and reduce refund rates.
If you have a new product coming out people will want to know what it's about before they invest in it. A webinar allows you to educate your audience and actually show them how your product can help them and solve their problems. Along with the great media options there's also the power of your voice that can be used to sway and convert those in the audience who maybe on the fence.
During the webinar be sure to allow for a live question and answer session. This gives potential customers the opportunity to have their questions immediately answered. You can also offer the product at a special discounted price for all who stayed until the end of the webinar. This is a great way to get sales coming in quickly and build a wide customer base.
Sell Affiliate Products
Not only can you sell your own products with a webinar, but, you can also make money by promoting affiliate products as well. A good way to do this is to interview the creator of the affiliate product you're promoting. Ask them questions about the product and how it can benefit your audience. Try to keep the interview to around 60 minutes. That's the perfect time for a webinar.
Another way to promote affiliate products through webinars is show them in action, such as the case with a software or service that can be demonstrated within the webinar. Be sure to add your affiliate link to the buy now button so you will get paid for every sale.
An Evergreen Sales Funnel
When you host webinars for your business, they not only provide good value there and then, but should also provide value for years to come. You can record your webinars and use them as part of your sales funnel process. A sales funnel is simply a path you create for your prospects. Online, it begins with a squeeze page. You offer something free (for example, your recorded webinar) in return for somebody signing up to your email list. Once they have signed up and received your webinar, you deliver an autoresponder sequence of emails that continues to provide great value. You eventually offer a product or service for sale.
People are more time-crunched than ever before. That's why they love webinars. With recorded webinars, they can listen whenever they like. Place archives for all the webinars you have done on your website. This way they can continue to serve your goals for an unlimited amount of time by engaging new traffic and leads.
Webinar Software
Hosting webinars isn't costly. Google Hangouts, YouTube Live and Facebook Live are free online streaming video services you can use to host webinars. There are also specific webinar software providers that give you all the tools you need in one neat package with true live-streaming, advanced interaction and live trigger buy buttons. You can boost your engagement and conversions with live interactive media options and real-time calls to action. You can share your screen, run quizzes, conduct surveys, show 'buy now' buttons and run interactive whiteboards.
Free Checklist To Help You Start Webinars For Your Business
Doing webinars for your business should be an important part of your online marketing mix. They have the ability to bring in new potential leads from all over the world, as well as help you engage with your audience in a new, more personal way. People love in-person events, and a webinar is about as close as you can get to having an in-person event without actually having one. For more information on starting a business webinar download my free Business Webinar Training Checklist .