Are Internet Business Opportunities Right For You?
Sometimes it can be difficult to believe that these internet business opportunities that you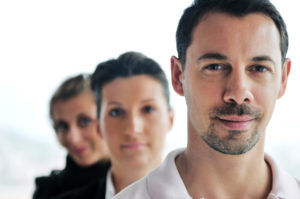 see and hear about as you surf the internet are actually for real. Why would you want to start your own online business anyway?
Maybe you have a strong entrepreneurial drive and want some additional earnings from a 'business on the side'? Or perhaps, through no fault of your own, you have lost your job and now want to set up your own business?
There are many online business opportunities from home that you can choose from. These include selling digital downloads (information products like eBooks); promoting other people's products for a commission (affiliate marketing); selling on eBay or other auction sites; running a membership site; selling your online services (writing, graphics, etc.) and owning a website that sells drop-shipped or wholesale items.  Are you one of the following types of people who are taking advantage of internet business opportunities?
6 Types Of People Taking Advantage Of Internet Business Opportunities
1. The Offline Business Owner / Manager
This is someone who already owns or manages a traditional 'offline' business and has realized the potential of an online business. That is, a business that can operate 24/7, with fewer overheads, less staff and no geographical ties. They are ready to put their knowledge and experience into a new venture and are ready to embrace internet business opportunities.
2. The Complete Online Newbie
A newbie is someone who knows that the internet is the way to make money, but has no clue where to start or what to do. They often don't start because they think that you need a lot of technical knowledge or computer experience to be able to fully benefit from an online home based business opportunity. But this is not true.  There are many step-by-step systems that makes it easy for anyone to succeed.
3. The Entrepreneur
In the past, a work from home business was generally just basic data entry work or involved spending large amounts of money buying stock, sorting out payment systems and hours travelling around trying to persuade customers (often friends or family) to buy your products or services. But now online business opportunities from home allow entrepreneurs to easily sell other people's products or services to people all over the world without having to worry about creating products, holding stock, organizing payment systems or sorting delivery.
4. The Redundant Employee
Sometimes in a tough job economy, middle-age managers and employees are some of the first people to get laid off. Employers often aim to keep the younger, less experienced people on the job because they can pay them less. It's not fair, but it does happen. If you're in that category, losing a job makes starting your own online home business very appealing because you can finally become your own boss and master of your own destiny.
5. The Retired Person 
Older folks may have discovered the online world later in their life, than perhaps their children or even grandchildren have. But that is not a barrier to success. Certain jobs dictate that people must retire from their jobs at a certain age.  Many people in this situation want to continue to keep working in order to keep their minds active and their ambitions fulfilled. Changing from a life of active work to being home all day can be quite an adjustment. But, with the wide choice of internet business opportunities available it can make that adjustment a lot easier on both the one retiring and his or her family.
6. The 'Baby Boomers'
A 'baby boomer' is someone who was born between 1946 to 1964. Over 4 million baby boomers are turning 50 every year and many will not be able to afford to retire.  While a traditional job gives them a steady paycheck, getting started with internet business opportunities will boost their earnings to help pay for the everyday bills and contribute to their pension pot so that they can enjoy the lifestyle that they have always wanted.
Proven Steps For Online Business Opportunities From Home
Regardless of your age, education, technical skills or qualifications there are no specific requirements to getting started with online business opportunities from home. There are teenagers all the way up to retired folks who have started their own successful home based online business. But it''s surprising how so many people think and talk about their intentions to start their own business online never actually take any real action and do it. To discover how you can easily create your own online business, check out this Free Presentation that reveals the proven steps for getting the best results from internet business opportunities.