Starting A Work From Home Business
The internet offers many opportunities to start your own work from home business. There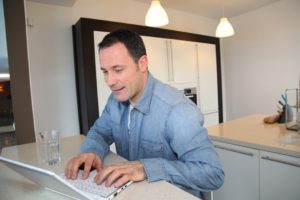 are no specific qualifications, age limits or backgrounds required. People from all walks of life and from all over the world are enjoying the rewards of having their own online home business.
You may feel that the online business world is complicated and is a place that only big corporations can exist. But this is not true. Here are 5 things you should know before you start your own work from home business on the internet.
1. You Can Sell Other People's Products
A great way to start a legitimate home based business is to sell products or services that have been created by somebody else. This effectively like being an online commission paid salesperson. This business model is called affiliate marketing. There are an almost limitless number of products to sell for internet home based business opportunities. Websites such as Amazon, ClickBank or JVZoo all have products or services that you can sell as an affiliate. Your job is to find the customers and the product owner takes care of the product, the payment systems and delivery.
2. You Can Create and Sell Your Own Products
Your other option for your home based business is to create your own product. This does not have to be an actual physical product. Millions of people use the internet everyday to find information and many are willing to pay for it. These digital products are easy to create and, once produced, can be sold again and again. This could be a digital eBook, videos or training series. You can even outsource somebody to create it for you and then put your name on it.
3. You Can Automate A Lot Of Tasks
When you start a work from home business, it is very unlikely that you are going to be able to hire staff to help you get your business off the ground. But with an online business you do not have to do every task yourself and, as your business grows, it will become impossible for you to do everything. One of the key aspects of online business success is building a customer email database. By using autoresponder software you can automatically respond to enquiries, attract new customers, keep and build relationships with existing ones and up-sell or cross-sell your products and services.
4. You Can Do It Part Time
It can be an exciting time starting a home based business. It can also be a little daunting. An online business allows you to start slowly, step-by-step, in your spare time. You can work on it in the evenings and weekends and still have your regular day job. It can either become a useful second income generator or, as your online income starts to grow, the decision to work on it full time becomes easier as you have already established the foundations and a have a customer base.
5. You Can Get Help From Other People
When you start a new job working for someone else, there is usually somebody who will help you in your first few weeks and months and show you how the business operates and how to do your job properly. They are also there to answer any questions you have or help you with any problems related to your job. Why should this be any different for your work at home business? A trusted online business mentor can help build a successful home based business quicker and more effectively than you can do on your own.
Your Home Based Business Checklist
When you start a home based business, it's easy to get overwhelmed. It can seem like you have so many different things to do and it can become confusing on which way to turn. But, if you've never even thought of creating a product of your own or don't know what product to create this step-by-step check list does all the heavy lifting for you so that you can really get your work from home business off to the best possible start.