Creating A Work From Home Income
Creating a steady work from home income is a reality for some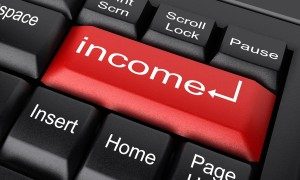 and a dream for others. It is possible to earn extra income from home but beware of someone or something that guarantees you a cut and dried amount of earning potential. Because the truth is, no one can accurately predict what you'll make. There are too many variables involved for someone to put a solid monetary figure on your efforts.
Let's take a look at the factors that influence a work from home income.
6 Factors That Influence Your Work From Home Income
1. Your Time
The one certainty in life is that time is limited. Everyone has the same 24-hour day to work, dream, determine goals, and complete tasks that will help them meet those goals. You might only have three hours a day to devote to your work from home income while the guy you admire had fourteen hours available.
Running your own online home business as a side business is a great way to earn income from home but it can also be a place where you never actually get anything done. When you work smarter and make the most efficient use of your time, you don't just get the job done. You get it done and still have plenty of time to do things that you want to do.
2. Your Business Model 
The level of your work from home income also depends on what business model is used. Your methods won't be the same as the next person (even in the same business) because you're two different people. You won't think or plan alike. Just like traditional 'offline' business needs a solid business model, so does your home based business from home. You need to know who your target audience are. What do you want to sell to them?  How you will let prospective customers know that they can buy from you? Why should they buy it from you?
3. Your Chosen Niche
There's also the matter of the niche you choose to go into. A niche is the specific market or industry that your home business focuses on. You should consider choosing a niche that you feel passionate about. If you're working on building a business from home, in a niche that don't like or enjoy, it's unlikely that you'll stick with it for very long.
Some niches are going to out perform others – it's just the way it is. Your goal is to select a niche that has a steady, money making track record. That way, if you make a smaller income the first time, you won't get discouraged because you'll recognize that the potential is there as long as you just wait for it to blossom into something more. Whatever you do, don't put all of your eggs into one basket because what happens if the bottom of that basket drops out? Your income does, too. Diversity is key to success.
Free Checklist & Toolkit: How To Choose Your Online Niche

4. Your Available Funds 
An online home business doesn't cost anywhere near the cost to start a traditional bricks and mortar business. But you will need some capital to get started. You can't generate a work from home income out of thin air. You will need to promote your business so that your prospects know that it exists. There are many online marketing strategies that you can use which can directly target your audience that don't cost eye-watering amounts of money. But remember, you do need to spend some money to make some money.
5. Your Willingness To Learn New Skills
One of the most important confidence-builders is knowing that you know what you know! You may have a lot of great business ideas but you don't have the know-how to make it happen. Educate yourself about how to market your product or service. What is your competition? How can you reach your demographic? What kinds of advertising should you do?
You may need some nuts-and-bolts education, too. For example, how do you set up an effective website? You may need some practical knowledge to help you reach your goals. There are many ways to educate yourself in business. You can hire a business coach to help you one-on-one. You can also download eBooks, sign up with boards and forums where business-savvy people congregate, and ask questions of successful people.
6. Your Self Motivation
Take some time to focus on your business. What, exactly, are you doing? What do you want to do? Who is your target market or demographic? If you have diverse interests, this can be difficult. But it's even more necessary, because diverse interests can be distracting if you don't focus on one at a time. Once you get yourself educated about your market and what you want to do, you can launch a focused business (or focus an existing one).
We all know that businessman or woman. The one who has written ten books, has a dozen jobs, and has a perfect house. You may not be that kind of person, and such a schedule and goals are just not realistic for you. It's really not advantageous to compare yourself to others. Set your own realistic standards and compare your progress against those.
Free Training Bundle For Generating A Work From Home Income
The internet provides people from all walks of life not only a part time home income but also a full time income. This Online Business Startup Bundle delivers powerful Internet money-making education designed to help you get up and running in the shortest time frame possible. After accessing your free account, you'll be able to make immediate progress with building your new online business and start generating a work from home income.