Write Great Blog Content Today
You don't have to be a professional writer to write great blog content. Blogs are big, even if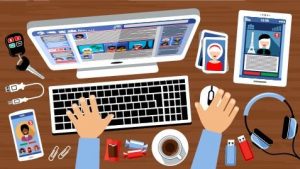 they're small. Blog traffic has been growing steadily for several years as consumers gain confidence from peers rather than trusting hard hitting sales pitches they find on corporate websites.
If you're an online marketer, you'll already understand the rewards that can come from a single blog post when it is written correctly. So how do you write great blog content? Sometimes you may have all the right blog content ideas in place but you just need to use the correct tools. Check out these 7 tools that successful bloggers use for creating blog content to really connects with their audience.
7 Tools To Help You Write Great Blog Content
1. Time
Okay, so you may not think of this as a tool. However, time is the most valuable tool that exists. It's one of the few things that you have in common with the most successful bloggers and online marketers. Don't rush your blog posts. Those who know how to write a great blog post take the time to research, write, edit, proof-read and write several drafts.
Truly epic blog posts are usually long, so you need to give them the time necessary to write them properly. Take your time. You can't simply add 1,000 words of fluff to a 500-word post and expect it to perform well. Your post definitely should be longer than normal, but quality is just as important as quantity.
2. Coffitivity
Did you know that "a moderate level of ambient noise is conducive to creative commission"? In layman's terms, that means a little bit of background noise, just the right amount, can make you more creative. Coffitivity.com is a white noise generating website that provides café background sounds at different levels of intensity, to keep your creative juices flowing for creating great content.
3. Research
Here is where the majority of unsuccessful bloggers go wrong. They know so much about a certain topic, they do little research. They know they haven't written a blog post in a while, so they just start winging it, using their vast market knowledge to create content. Successful bloggers know how to write great blog content because they do lots of research before they write. They don't assume they know everything. Consistent research eventually reveals epic content ideas relevant to your niche or marketplace.
Providing the ultimate solution to a huge problem is what makes good content. Your reader should have to go nowhere else for more information or extra resources. Quality will always conquer quantity, and when you have both of those characteristics present, there is a good chance you just wrote an epic blog post.
4. Word Counter
On average, blog posts with over 1,500 or 2,000 words deliver up to 5 times more traffic than shorter posts. WordCounter.net makes keeping track of your word count simple. A study by QuickSprout shows that posts of longer than 1,500 words "get almost 70% more Tweets and nearly 23% more Facebook likes" than shorter posts.
FREE REPORT: How To Write Epic Blog Posts

5. Headline Helpers
You can write great blog content but it doesn't matter if it doesn't get read. That's why your title or headline is super important. It's the first thing that get the attention of your reader and the search engine spiders (that is, if it is constructed properly). Don't forget your sub-headers too. They should serve as standalone, attention-grabbing titles for each of the subsections throughout your blog post. They help the eye travel easily down through your content, and should be able to function on their own if you use them as blog post titles themselves.
You can get endless suggestions, catchy titles, and other creative blogging topics with
the Blog Title Generator from SEO Pressor. As you know, reaching your customers in an deep and emotional way is a key to quality website content and your headline is the most important piece of copy you use to reach prospects. This free tool will analyze your headline to determine the Emotional Marketing Value (EMV) score.
6.  Evernote
Evernote is a free personal notebook that sinks to all of your electronic devices. Inspiration can come at any time. Evernote is always there to ensure you capture all of your great ideas, no matter when or where they appear.
7. Free Report To Help You Write Great Blog Content 
If you're working online as a marketer, then a blog is a virtual "must-have" for your business. It's the home for all that you do. Your blog the place where people can find out about your products, your services, and your great insight. But writing for an online audience is very different from writing for an offline audience. It's hard for some people to master because it means giving up old ways of thinking and embracing a new style, which almost feels a bit too comfortable.
This free report, How To Write For An Online Audience, not only reveals how to write great blog content but also how to write web content, information products, eBooks and on social media so that you connect with your audience in an easier and faster way.