Get Attention When You Write Online Content
When you write online content, it's one thing coming up your content ideas but figuring out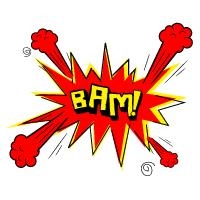 an attention grabbing title or headline can be a lot harder. When you write content for your blog posts, articles, web pages, sales pages, reports or ebooks, it's the headline or title that is going to stop your reader in their tracks and make them want to read more.
Sure, anyone can come up with a bland, to-the-point title. But unfortunately these aren't usually the kinds of titles that attract much attention. For most readers, the title or headline is what hooks them in and makes actually click through to read your content. This is why it's so important to spend some time on every title you write.
Here are 5 tips to help you craft attention-grabbing titles and headlines.
5 Ways To Grab Attention When You Write Online Content 
1. Use Numbers 
Numbers are one of the most popular title formats used when people write online content. For example, "10 Ways to Potty Train Your Toddler Without the Tears" or even "7 Days to a Healthier You". This is a format made popular in magazines, and it works for a reason. It shows people that there are specific steps to reach their goal, which makes it easier for them to take action on what you write.
2. 'How To' Headlines 
Every online headline needs to give the reader a reason to click through. There has been a trend for so-called 'clickbait' headlines that encourage people to click because they are frustratingly vague, sensational or provocative. But all too often these headlines are deceptive and do not deliver what they promised. It's one sure way to annoy your audience. Instead, go for tried and tested methods of teaching your reader how to achieve something. People will click through because it promises to reveal something that produces a result they want to achieve
FREE REPORT: How To Write Content For An Online Audience

3. Spark Curiosity 
Sometimes, the best way to create intrigue is to leave the title vague. Not vague in the sense that nobody would be interested, but vague in a way that would still hook readers in. Let's say you were writing a post about the raw food diet. A title example like, "So You're on the Raw Food Diet? Read This First!" would hook readers into the general subject area, but they'd have to click through to learn what the article was really about: The more you know about your prospective customers and what they want to know from you, the easier it is to write online content they can use.  As they grow to know, like and trust you, they will be more inclined to buy from you.
4. Use Emotions
Using the emotions of fear, happiness, sadness and surprise will provoke reaction to titles and headlines, but use them carefully. For example,  a title that reads, "Why Your Diet Won't Work" touches on the basic human reaction to a fear of failure. Your copy should not only include the reason why the problem is occurring, but also offer the solution. So, adding the words "And How You Can Fix It"  provides reassurance and a solution. Reaching your customers in an emotional way is important when you write online content. You can use this free headline analyzer tool to determine the Emotional Marketing Value (EMV) score of your title or headline.
5. Keep A Swipe File Of Headlines You Like
Don't be afraid to take inspiration from other people's subject lines. But that doesn't mean directly copying  them (that's definitely not recommended). Instead, it means keeping a document where you list titles that get your attention, and then tweaking them for completely different topics. For example, "18 Simple Tricks That'll Help You Save for Your Vacation in Half the Time!" could be turned into "9 Little Known Tricks to Help You Sell Your House in One Week!". As you can see, the titles are completely different, but the first gave the inspiration for the second.
Write Online Content With The Help Of Experts
It'll take practice to improve your titles and headlines, but it's well worth it. Spending just a few minutes extra on each headline you write could pay off big time when it comes to attracting online traffic!
But many online business owners do struggle when creating compelling content for their website. It can take up a lot of valuable time and it's not uncommon to hit a writer's block. One option is to hire a professional writer but usually that is too expensive for many online entrepreneurs. But Private Label Rights (PLR) content offers a quick and simple solution. It's a quality content writing service that  provides you with pre-written website content, articles, blog posts, reports etc, all written by professional copy writers. It saves you a ton of time and you don't have the high costs of hiring a writer. If you're struggling to write online content, this free starter pack of PLR Reports and Articles are available for you to edit and use in any way you want and even put your name as the author.