Why Should You Be Writing A Blog?
If you're running an online business and you're not writing a blog on a regular basis you're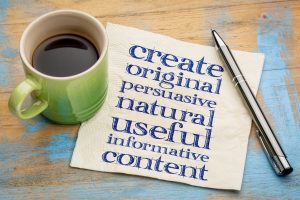 neglecting one of your most important marketing tools. More and more companies are starting blogs, and many people are even forming their entire companies around blogging.
Customers really love blogs because they're generally full of great (free) information, and they offer a personal touch that generally isn't found on a standard corporate website.
When you write a blog post on your website, it will be more effective if it's written for a specific audience, rather than a generic audience. That way you are more likely to attract search engine traffic, more likely to get passed along within a community and more likely to attract businesses that will want to advertise on your website. Here are 5 tips for writing a blog for your online business.
5 Tips For Writing A Blog For Your Online Business
1. Select A Specific Niche or Area of Interest
The more specific you can get, the better. Instead of, say "weight loss" which is a hugely crowded market, a much more specific website would be a blog about "weight loss for women over 40."
Part of choosing a niche is finding products you can promote when writing a blog post. If there are no affiliate products available, it could be because there isn't enough demand there for a product. In this case, you'd have to do some careful market research in order to determine whether or not a niche is truly viable. If a niche has no products available, you could create your own, but again, you'll need to do your research to see if there is a market out there.
2. Stay On Top Of Current Events in Your Field
It's crucial if you're blogging about a specific interest that you stay on top of the industry. There are a few ways to do this. The first is to subscribe to RSS feeds from various blogs in your industry. Whenever a piece of news hits one of these blogs, you should be the first to know. You can also use a news and website aggregator like YourVersion to stay on top of non-blog websites.
Blogging is all about informing and educating. If you can do that, your visitors will form a bond with you and they'll be sure to spread the word about your blog so that your URL goes viral and it attracts an even bigger following within your niche.
FREE REPORT: How To Write Epic Blog Posts

3. Write With Personality And Insight
Let your personality out and let your thoughts be known. You do have to obey common grammatical rules and at least be able to put together coherent sentences, but you don't have to be a highly skilled writer. In many markets, what's being talked about has been beaten to death so many times that people choose blogs based more on the personality than the news they carry. Of course, you still have to provide good quality and interesting content. This often comes in the form of your own personal insights rather than just facts.
This is one of the main reasons why blogging is such a major global phenomenon. People really enjoy reading unique voices on certain topics. They crave the differences in personalities.  It's refreshing to read information that has personality and isn't stale or stuffy. This is why columnist pages in local newspapers are so popular. Your unique voice is the most important part of getting regular visitors to your blog.
4. Provide Value
Remember that the people who are reading your blog are there to find out information about the niche, seeking solutions to their needs. Keep your posts on topic, but get personal by providing your own voice within those entries.
Provide valuable information when writing a blog post. People aren't going to keep coming back to your blog over and over just to read about the new products you're releasing, unless you're releasing some really revolutionary stuff. They're going to want to read industry news, tips and tricks, special strategies, and other important information for free. While it's perfectly fine to blog about new product releases, it's also important to keep providing helpful information to keep your readers coming back. Ensure that your website is search engine friendly and start building an email list so that you can let your readers know when you publish a new post.
5. Be Consistent 
Writing a blog on a regular basis is a fantastic way to build loyalty. Blogs offer a great medium for interaction. Visitors can leave comments and receive responses to their comments. This helps build loyalty to your online business, and readers really enjoy this level of interaction with someone they consider an authority figure.
Update frequently otherwise visitors may stop coming to your blog. It will also give you more confidence to write more well worded posts in the future.  Provide your readers with the kind of quality information they're hungry for, and they'll keep coming back for more.  In fact, the more you give them for free, the more loyal they'll become, and the more likely they'll be to buy from you in the future.
Everything You Need For Writing A Blog
One of the great things about writing a blog is that you do not have to be a professional writer to have a popular blog. Blogs are big, even if they're small. Some blogs get millions of hits per month. Blog traffic has been growing steadily for several years as consumers gain confidence from peers rather than trusting hard hitting sales pitches they find on the web.
If you're struggling to create a blog or you find yourself wasting hours or even days trying to figure it all out on your own then the Know WP Video Course will help. This easy to follow course provides everything you need for starting and writing a blog to boost your online brand.