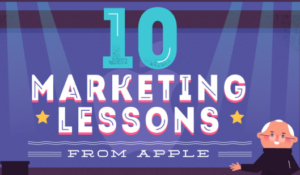 As good as Apple products are, their marketing is even better. The simplicity of Apple's advertising campaigns coupled with the air of mystery around each new product launch is just some of the reasons why this tech giant is considered a leader in the world of digital marketing.
But that's not all! Apple is also known for relying heavily on product placement. That's why you'll often see Apple products in videos posted by influential Instagrammers and Snapchatters. Once an influencer shares your product and shows millions of their followers just how beneficial it is, the seed is planted for leads to grow.
Another effective marketing strategy from Apple is leveraging reviews and testimonials. Something as simple as offering a free trial or sample in exchange for an online testimony or a review is a great way to get more customers in your sales funnel. Just make sure that each testimonial has the person's name and image or avatar. If it's a B2B relationship, don't forget to add a link back to their website for further credibility.
If you are in need of some more marketing inspiration, take a look at the infographic below by The Website Group and discover 10 marketing lessons you can learn from Apple.

Infographic Courtesy of: The Website Group