6 Ways To Get Free Website Traffic
Every website needs traffic. This is especially true for online businesses. Without traffic,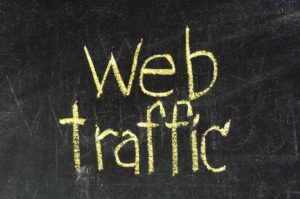 you will struggle to build a customer base, generate revenue, or even build an online business of your own. It is vital that you have a consistent flow of website traffic if your online business is to succeed
There are only two sources of traffic and that is traffic that you pay for and traffic which you have not paid for, or in other words, is free.
In this article, we will look at how you can generate free website traffic. In my next article we will look at paid traffic.
How To Get Free Website Traffic
Free website traffic is not actually free in the sense that you have done nothing for it. It is more like traffic that you have earned and that comes from things like article marketing, blogging and participating on forums, social media like Twitter and Facebook, video marketing and search engine optimization. It essentially comes down to providing high quality original content and although it has not cost you any money, it may well have cost you an element of time to create it.
1. Article Marketing
Article marketing is a very popular method for getting traffic. In many markets, it's one of the best ways to increase website traffic in large quantities of targeted visitors for free. Article marketing works by you writing an article about the service and products provided by your online business and submitting it to 'free content' submission websites. Your article will contain a link to your website. When somebody has read your article and found it useful, they may choose to click on the link and visit your website.
There are many article directories online but the top one I would recommend is EzineArticles.
2. Blogging
A blog is a website or web page where you write information, facts or opinions on a regular basis for a specific target audience. If you write an interesting blog it will maintain and generate visitor traffic because readers will keep coming back to the blog to read updates. If the blog is good, your readers will recommend it to others within the target audience.
3. Forum Marketing
Forum marketing can be very successful if done correctly. First, you must find forums in your niche. To do this simply search Google for "your niche keyword" forum or "your niche keyword" message board. 
Do not rush into a forum as a new user and start posting links to your website in every post as you will be ignored and maybe banned from the forum.  Instead, add a website link to your signature and just start posting. First, establish yourself as an expert in your niche and you'll draw attention to your signature link by simply being friendly, posting often, and giving people helpful advice.
4. Social Media
Younger people are increasingly discovering websites via social networks. Recent research has shown that, overall, social networks like Facebook and Twitter are the preferred means of discovery for nearly a third of all people in the USA. But, as with other free website traffic methods, people will eventually tune you out if you don't post things that are interesting to them.
5. Video Marketing
You can make a simple video very quickly by putting together a slideshow presentation with Microsoft PowerPoint and exporting to video format. Or you can go a step further and make a video with you talking about the benefits of your product or service.
Video marketing is very powerful and it is easy to submit a video to YouTube. Add your website's URL to the video itself, and add a link to your website in the description of the video, too. This will help generate traffic, especially if you target keywords with your video titles.
6. Search Engine Optimization.
Search engine optimization (SEO) is the organic, or natural, search results which are listed on the search engines results pages and show up because of their relevance to the search terms to your online business. Find out about the most frequently used keywords for the search engines which are associated with the services or products that you offer. Website traffic can be increased if you use these keywords in the form of text on your website.
LEARN MORE ON HOW TO GET free WEBSITE TRAFFIC
Every website needs traffic to be successful and every website owner at some time or other will ask: "How can I increase traffic to my website?" All online business owners want website hits that generate business but getting that traffic is not always easy and often can be a very frustrating and complicated process.
To learn how to get free website traffic and the most effective methods to use when you buy website traffic, click here for a free 7-Day Online Marketing Bootcamp.