Affiliate Marketing Companies You Can Trust
Affiliate marketing companies are businesses and organisations that pay commissions to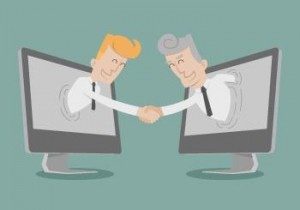 affiliates when they sell their products and services. The majority of sales are usually done via the internet. The salesperson is called an affiliate because they are associated with the product but are not directly part of the business that they promote.
Anyone can be an affiliate. Many successful online entrepreneurs have started their online business using the affiliate marketing system. You don't have to create your own product and the affiliate marketing company takes care of the payment systems and product delivery. The attraction of this business model for affiliate marketing companies is that they can get their affiliates to do their marketing for them and pay nothing if the affiliate does not sell anything.
If you want to make money as affiliate, here are 7 specific affiliate marketing companies you should know. They all have a good reputation and many products to choose from.
7 Affiliate Marketing Companies You Should Know
ClickBank (Click Here)
ClickBank is a very popular site that offers an affiliate program for digital products. Through ClickBank, you can promote eBooks and guides as well as video courses and membership sites. You can earn as much as a 50% commission or more which is some of the highest in the industry. It's easy to sign up as an affiliate and begin promoting products right away.
CJ Affiliate (Click Here)
CJ Affilaite (formerly known as Commission Junction) is an affiliate marketing company that represents many different products. CJ Affilaite has been in business for years and is one of the top affiliate marketing companies. It offers you a network of large companies to work with once you're accepted. However, because of its size and reputation, it can be difficult to get accepted initially. Once you're accepted, though, it can be very profitable.
Amazon (Click Here)
Amazon is one of the most popular affiliate programs. You can earn commissions for promoting the wide variety of both physical and digital products available on their site, and the sign up process is quick and easy. The Amazon Affiliate Program provides you with all you need so that you can add banners and share links on your own blog or website.
FREE Checklist: Affiliate Marketing For Beginners

JVZoo (Click Here)
JVZoo is an affiliate program that many people love because of it has affiliate programs that pay instantly to your PayPal account. While most affiliate programs have a waiting period of up to 60 days for payments, with JVZoo you get immediate access to commissions. The sign up process is simple and gives you access to many products to promote.
Share A Sale (Click Here)
Share a Sale offers an affiliate program that allows you to have a large network of over 2,500 merchants whose products you can promote. Share A Sale is known for being ethical, easy to use, and provides many resources for promoting on your own blog or other type of website.
Rakuten Affiliate Network (Click Here)
Rakuten Affiliate Network (formerly known as Linkshare) was one of the first affiliate marketing companies established. It has a free and simple process for signing up. Once you're accepted, you have access to a large number of companies for product promotion. The Rakuten Affiliate Network provides access to many recognized brands in numerous product categories, including fashion, gifts and lifestyle.
Warrior Plus (Click Here)
Warrior Plus is the affiliate program that promotes items being sold in the popular internet marketing Warrior Forum. This allows you to promote Warrior Special Offers, also known as WSOs. It uses PayPal to deliver funds and has a simple registration process.
How To Profit Using Affiliate Marketing Companies
By signing up with these top affiliate marketing companies, you can leverage the network they already have in place to promote products. You'll get access to tools such as banner ads, email swipes, articles and affiliate links to make product promotion easy. Companies with affiliate programs provide the quickest and easiest way of getting your own internet business off the ground. You don't need to go the time, trouble and expense of creating your own product and the affiliate company takes care of the payments, customer queries and product delivery.
But it's important that you know how to do affiliate marketing properly and effectively so that you can attract the right customers and build a sustainable income. These free affiliate training programs show you how to make the most from affiliate marketing companies and build a profitable online business.