Innovative Business Ideas That Shaped Christmas Traditions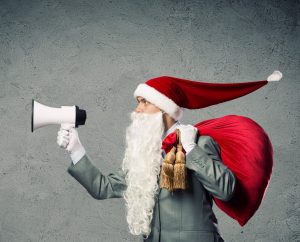 In today's modern world with high-speed internet connectivity we hear about new and innovative business ideas all the time. Social media provides almost an instant update on the world around us and our smart phones are never that far from our side. Entrepreneurs can reach out to other like-minded individuals, no matter where they live or work.
I still think that it's pretty incredible how many simple, innovative business ideas, some over 100 years old, have stood the test of time and remain a solid part of our Christmas traditions. Here are my top 5 favorites.
5 Innovative Business Ideas That Changed Christmas
The Image Of Santa Claus
If you ask anybody the question, "Who wears a red suit, black boots and has and white beard?", you're going to hear the name of Santa Claus, or Father Christmas as he is known in the UK. This image of Santa was created by Coca-Cola back in 1930. They wanted to use Santa Claus in their winter advertising campaign and they dressed him in the official Coca-Cola colors of red and white. When the campaign was over, this look became popular all over the world and has remained ever since.
The Story Of Rudolph The Red-Nosed Reindeer
In the winter of 1939 the Chicago-based Montgomery Ward department store wanted a Christmas-themed story to bring customers into their store. An employee of the company, Robert May, wrote the story of Rudolph and almost 2.5 million copies of the book were sold. When the book was reissued in 1946, it sold over 3.5 million copies.
It's interesting to note that Robert May's brother-in-law, Johnny Marks, wrote the song "Rudolph the Red-Nosed Reindeer". The song was recorded by Gene Autry in 1949. The song sold 2 million copies that year, going on to become one of the best-selling Christmas songs of all time, second only to Bing Crosby's "White Christmas".
The Creation Of The Christmas Cracker
The origin of the Christmas cracker is one of my favorite innovative business ideas for Christmas. Crackers are very popular in the UK at Christmas time. They are short cardboard tubes wrapped in colored paper. When pulled apart, they make a bang and a party hat, small gift and a festive joke fall out!
It all started the early 19th century with a sweet maker from London called Tom Smith. When he was in Paris, Tom saw how much the French enjoyed sugared almond bon-bons which were wrapped in colored tissue paper. He tried to introduce them in London but had little success.
For 7 years he worked on new ideas to make the bon-bon into more exciting. His inspiration came one night while he was sitting in front of his log fire and watching the sparks and cracks coming from logs. He thought what a fun idea it would be if his sweets could be opened with a crack when their fancy wrappers were pulled in half. The Christmas cracker was born!  He inserted little toys, mottoes and poems into the cracker which excited children and amused adults. Now a dinner table at Christmas is not complete with a Christmas cracker for every guest.
Putting Lights On The Christmas Tree 
It was Thomas Edison's innovative assistant, Edward Johnson, who came up with the idea of electric lights for Christmas trees in 1882. Originally people put candles on the tree but, over the years the candles often became a fire hazard. The lights on a Christmas tree signify the stars of heaven shining down through a Christmas tree forest. Whilst on the subject of Christmas trees, the Addis Brush Company produced the first artificial Christmas tree in 1930. It was made from brush bristles that were originally used to make toilet brushes!
Sending Christmas Cards

Sir Henry Cole, the first director of London's Victoria and Albert Museum, created the first real Christmas card. In the Christmas season of 1843 Sir Henry found himself too busy to write individual Christmas greetings for his friends. So he hired artist John Calcott Horsley to illustrate a card for him. The picture showed a family enjoying Christmas festivities with the message "A Merry Christmas and a Happy New Year to You."  As the printing industry grew the popularity of sending cards at Christmas evolved into a major industry.
Free Checklist: Reach Your Potential With A Success Mindset
Christmas is about connecting with the people around us, giving thanks and celebrating. But, as you can see from the examples above, innovative business ideas have made a significant impact on our Christmas traditions.
We all have a river of potential inside us. Believing in your own potential is an essential part of your confidence and success.  However, believing in yourself and your abilities may not come as easily for you as it does for others. To learn more on how to develop your potential, download my free checklist, Cultivating A Success Mindset and start taking steps today to embrace a success mindset and watch how your business, and your life, change.