Maximize Your Affiliate Marketing Sales
Affiliate marketing earns you money by selling products for reputable companies in exchange for a commission. Top sites like Amazon and eBay offer huge variety in terms of high-demand products.

One of the biggest benefits of making money from affiliate marketing sales is that you don't have to create your own product, or do any customer services work and support. There's no need to do the research, develop the product, write the sales letter, set up the sales funnel for customers to purchase the item, and so forth. It's all been done for you.
Join an affiliate program, and you can have hundreds of products to sell in a matter of minutes.
Choose Your Niche
If you don't already have an existing business, you need to choose a niche to focus in. Think of topics you enjoy and would like to learn more about. Also think about the kinds of products you and your family and friends buy regularly. Everyone buying through your affiliate link will make you money.
FREE Checklist: Affiliate Marketing For Beginners
Build an Email Marketing List
Smart affiliate marketers create what is called a lead capture page. This is used as a lead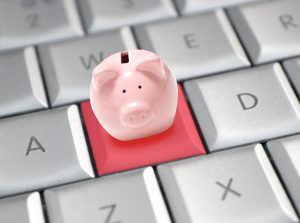 generation page, in which you capture the prospective customer's name and email address before they click over to the vendor site. This allows you to build a list of prospects who are interested in your chosen niche. You can send different affiliate offers to the people on your email list whenever you want, rather than sending them directly to a vendor's sale page and never having any contact with them again.
Be Careful What You Sell
You should avoid promoting anything that you wouldn't use or buy yourself or are not impressed by. You don't want to get the reputation of being someone who will literally sell any old rubbish just to earn a commission. Rather, you want to show that you're in the know, with great deals on products that really work.
Connect With Your Customers
One of the most important aspects of a modern affiliate marketing strategy is to have your own website or blog where you produce content related to the products you wish to sell. If you already have a website and/or an existing business, you can create a new stream of income through selling affiliate products. Chances are you don't have a product line so extensive that you can cater to every customer who visits your site. Affiliate marketing can help you fill in the gaps.
How To Market Affiliate Links On Your Website
Check your website analytics and statistics. Find the posts and pages that receive the majority of your online traffic. Read through them as if you're seeing them for the first time and think about what type of product would be a natural extension to offer after someone has read your article.
For example, if you're talking about using natural remedies to boost weight loss,  type "natural weight loss affiliate offers" into Google, or your preferred search engine. Approach companies you find in the search results, and tell them you would like to be an affiliate for their products and services. They will give you a unique affiliate link to their product sales page which you can use within your article. When a reader clicks on that unique link and makes a purchase, the sale will be tracked back to you and you'll earn a commission.
This is an easy way to take free traffic that you are already receiving and make affiliate sales. Aside from being a nice passive income source for yourself, you're helping your readers and followers as you're offering a solution to a problem they want to solve.
Use Keywords Your Content
Keywords are words that somebody will type into a search engine like Google to find something. Using keywords in your website posts and pages that are related to your niche will help drive free traffic via the search engines. This is a marketing technique known as search engine optimization (SEO). Google and the other main search engines each have their own algorithm, or formula, for ranking sites and pages on their search engine results pages (SERPs).
All of the keywords should be related to your topic or niche and should be words that an ordinary person interested in your niche would search for. Use keywords on all media files such as images and videos as well. They can also be indexed by Google, which will give you the chance to get more than one of the top slots on the SERPs.
The best way to get to the top of the search engines results is to write high-quality content as naturally as possible. Use keywords in the titles of your articles and blog posts. You can also put them in the titles of any images you might use on the page. In addition, it is a good idea to link to the affiliate product page using keywords. Instead of saying, "Click here," you could say, "Learn more about the ultimate puppy obedience training guide."
When you are creating your pages, think conversions, as in subscribers or sales. Include all the elements on the page that will encourage your visitor to complete your call to action, such as subscribing or clicking through to learn more and hopefully buy the affiliate product you are linking to.
Free Checklist: Beginners Guide To Affiliate Marketing Sales
Companies are happy to pay commissions for affiliate marketing sales to people just like you, in return for promoting and selling their products and services. Success comes from choosing the right niche, staying committed and understanding your audience.
One thing to keep in mind when you start to sell products for companies online is that success isn't going to happen overnight. You can make unlimited profits from affiliate programs, but it will take time. For more information on how to start affiliate marketing and make money selling other people's products, download my free checklist, Affiliate Marketing For Beginners.