You Need To Promote Affiliate Products To Sell Affiliate Products
Affiliate marketing is a business model where you, as an affiliate, promote and sell products created by other companies in exchange for a commission. You don't have to create a product, sort out delivery, manage payment systems or customer queries. The product creator takes care of all those things. Top sites like Amazon and eBay offer huge variety in terms of high-demand products.

But just because you didn't create the product, it doesn't mean that you can't promote it in a creative way. Many product creators do produce marketing collateral for their affiliates to use. However, if it's one of the top selling affiliate products many other affiliates will also be using that same marketing collateral and it will be challenging for your promotions to stand out if they are the same as every other affiliate.
Let's look at some creative and effective ways to promote affiliate products.
How To Promote Your Affiliate Program Products
The important thing to remember when you promote affiliate products is to read the creator's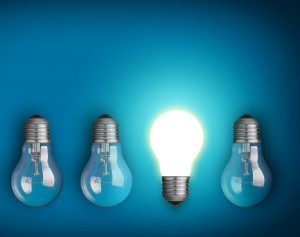 terms and conditions so that you don't break rules. You can add your own freebies, checklists, updates, and more to the product to make it even more useful and appealing to your audience.
If you're not sure, talk to the creator. Sometimes they have good ideas too. You can promote affiliate products more creatively than you think if you just think like your audience and give them what they want and need.
FREE Checklist: Affiliate Marketing For Beginners

1. Create a How-To Tutorial Upgrade 
If you create a tutorial for the product and offer the tutorial to anyone who buys the product from your link, you can incentivize them to buy it. The tutorial will help people who are on the fence but worried they may not be able to use the product. Alternatively, you can give the tutorial away free before purchase as a lead magnet.
2. Write Interesting Reviews
One of the best places to promote affiliate links on your website is to write a review of the product or service. People can read what you said about the product and then choose to buy it or not via your affiliate link. The interesting thing about reviews is that you're going to make more sales the more honest you are – even if you don't like the product.
3. Create a Round-Up of Products 
If you know about five to ten products of which you're an affiliate (or at least you're an affiliate of some of them) that all do similar things, create a post listing all of them and talking about all of them. This works great in a chart that includes the price and a link to the product.
4. Link to Products within Your Content 
Even if an article on your website or blog is about something else, as long as you mention a product or subject in passing, it's a good place to link directly to other reviews you've created or other information that helps promote that product.
5. Host a Webinar
Webinars are actually very good ways to promote affiliate products. You don't have to be the creator of the product to sell it practically as if you own it. For example, you can do a demonstration of a Vitamix blender and sell it via links even though you don't own this product. You can even invite the product creator to the webinar too.
6. Create a Resource Page 
On your website, you should have a page that's either "resources I use" or "tools I use" or something else that works for your audience. List out everything you use in the right category, linking with affiliate links for those things that have them.
7. Create a Case Study
People love stories about other people. Creating a case study about someone who was successful with that product is a wonderful way to introduce your audience to it. They'll love seeing someone else who has been successful. This person doesn't have to be someone who purchased the product from you.
8. Get a Higher Discount 
Ask the product creator to give you a discount code. While this will cut into your commission, if the product is digital it's not really going to make that big of a difference. However, it will make the audience more interested to buy from you because you're offering the discount.
Free Checklist: How To Promote Affiliate Products
Companies are happy to pay commissions to people just like you, in return for selling their products and services. Success comes from choosing the right niche, staying committed and understand your audience. One thing to keep in mind when you start to sell products for companies online is that success isn't going to happen overnight. You can make unlimited profits, but it will take time. For more information on how to make money selling other people's products online, download my free checklist, Affiliate Marketing For Beginners.