Affiliate marketing is performance-based.
The business owner or product creator pays you for each visitor or sale you generate through your own marketing efforts. You as the affiliate, or salesperson, earn a commission by promoting the product.
The affiliate marketing industry has proliferated over the last decade. It's now an essential part of many online businesses, especially those in the retail and e-commerce industries.
To succeed in affiliate marketing, here are 4 key affiliate marketing strategies to know about.
FREE Checklist: Affiliate Marketing For Beginners
4 Key Affiliate Marketing Strategies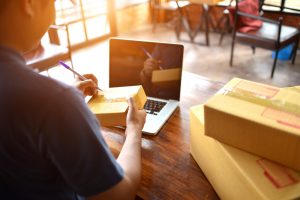 These 4 affiliate marketing strategies are worth implementing if you want to open another revenue stream as an entrepreneur.
Affiliate marketing is easy to get started, affordable and offers a higher return on investment than many other forms of online marketing.
It also helps to reach more of your target audience, boosts your creditability, and builds revenue more passively. With these benefits alone, there's no reason why you shouldn't adopt these affiliate marketing strategies.
1. Recommend the Products You Use and Honestly Trust
The products you recommend should be the ones you honestly trust and use yourself.
It's important only to recommend products you trust to ensure that you're not misleading your readers or customers and can maintain your credibility as an affiliate marketer. This is what makes affiliate marketing so powerful. It's about the fact that you actually use the products and can show the benefit that makes affiliate marketing successful.
2. Join Top Affiliate Marketing Websites or Networks
There are many different affiliate marketing websites and networks to research and join. Many of them have free membership, so you can join and earn money in no time. In addition, you can find tons of products, topics, and niches to choose from.
Some of the most popular affiliate marketing websites include Amazon, ClickBank, Shareasale, and Commission Junction. If you have products, you can also start an affiliate program to let other people promote your products using these same platforms!
3. Utilize Discounts and Promo Codes
The most popular way to use affiliate marketing is to offer promotional codes or discounts.
These discounts are typical to individualize to the person or marketer advertising it. This means you could make a special deal with the product owner or company to offer an exclusive discount to your target audience. This can further encourage them to be part of your community as well as purchase the product.
Discounts are by far the best way to encourage viewers to purchase something they have always wanted to try or think they need.
4. Use Influencer Marketing to Help
Influencers have a wide-reaching audience, which is why they are so valuable in terms of affiliate marketing. Influencers reach thousands or even millions of people and help to promote your product. If you work with an influencer, you can expect a significant increase in traffic to your website and increased conversion rates.
Free Download: Affiliate Marketing Strategies For Beginners 
There are many companies that are wiling to pay you to sell their products online.
Success comes from choosing the right niche, staying committed and understanding your audience. One thing to keep in mind when you start affiliate marketing is that success isn't going to happen overnight. You can make unlimited profits, but it will take time. To learn more on how to succeed with your affiliate product sales, download my free checklist, Affiliate Marketing For Beginners.