How To Write Better Blog Content And Provide More Value
There are many benefits to having a blog if you're a small business. It's an inexpensive way to market and build your website and develop the credibility you need to compete with companies that have been in business longer and are larger.

Fresh content on your blog will encourage Bing, Google, Yahoo, and other search engines to re-index your website so that it ranks higher on search engine results page (SERPS). Blogging can also help establish your business as a leader in the industry you're in. As time passes, your visitors will begin to view your blog as the "go to" source for content that is current and informative. This will translate into gaining new customers.
It is important to realize, however, that once you begin a blog, it's vital that you add new content regularly. It doesn't mean you have to write a new post every day but it does mean that you offer your readers value because no one is going to come read your blog or find your offers if your content isn't something they want to consume.
Here are 10 simple ways to create better blog content.
10 Ways To Create Better Blog Content
1. Know Your Audience
Before you write any content or create any type of content, you really need to know who you're creating it for. Who are you trying to teach, engage with, inform, educate, and entice to do something?
FREE Checklist: 21 Days To A Better Blog

2. Understand The Point of Your Blog Content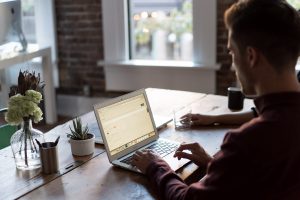 When you create content for your blog, each piece of content should have its own purpose and reason for being. When you know that purpose, your blog writing format will be so much better.
3. Know Your Overarching Reason for Existing
It's also important to keep on track by always knowing and remembering what your reason for existing is in the first place. There are millions of blogs on the internet. What makes yours different? What is your main reason for being? What do you want to accomplish in terms of the audience you serve?
4. Create Some Long-Form Content
Add in some content that is longer and more in-depth. This is a great use of your blog space. Some of the best blog posts are over 2000 words. You can create one shorter blog post at a time, then create a longer post where you link to each post to make a new long-form blog post that gets your audience to click around.
5. Use Some Short Content
The key to what makes good blog content is the value to the reader. Some of your audience may be 'time poor' and want shorter posts. Add in some shorter content that addresses concerns of your audience and narrows down the information you want to teach them into bite-sized pieces, about 450 to 800 words per blog post.
6. Add in Trending and Relevant Content
Don't forget that no matter what your content calendar suggests, news happens. If you don't add in that trending news, you may not be seen as an expert and you may accidentally be sending your visitors elsewhere to get that news. Even if you just curate trending content, that's better than ignoring it or being behind the curve.
7. Use High-Quality Images
Using images that are obviously good quality stock photos or images you take yourself makes your blog look so much better. If you brand those images, that's even better. You want the images you use for each blog post to advance your message and bring feeling to your readers.
FREE Checklist: 5 Step Content Strategy

8. Use Different Formats of Content
Don't just use text-based blog posts. Use a mixture of video, infographics, memes as well as just text blog posts. This is going to make your blog look a lot more interesting.
9. Remember Your SEO 
Even though your audience might not notice, good SEO (Search Engine Optimization) isn't just for you – it's for your visitors too. Using good SEO means that you use accurate titles, good subheadings, and keywords your audience is interested in. It all helps. But, so does blog site design and navigation. This is what adds into the perception of your blog being high value.
10. Curate Content
Content curation is the process of finding, organizing, commenting upon and sharing online the best and most relevant content about the niche you are working in. It's a shortcut to adding valuable content to your blog or website because you're not creating it from scratch. But you are offering value by commenting on why it's valuable, controversial, and so on.
Free Checklist: 21 Days To Better Blog Content
Creating better blog content has a lot to do with the perception your audience has of the content, as well as the quality of the information you're providing. If you want to be known as the authority on your topic within your niche, putting out amazing high-value blog content on a regular and consistent basis will get you there. To learn about how to be a better blogger, download my free checklist, 21 Days To A Better Blog and start marketing your blog to achieve the results you deserve.