What Are The Must-Haves for A Brand Website?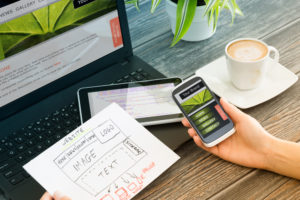 Over 70% of potential customers choose whether to consider buying from a business depending on the information they find online. So, your website is your biggest first-impression maker.
The first thing you need is a secure, catchy URL that makes sense for your brand. And once your domain is ready, it's time to build your website and make some big decisions.
However, if you already have a website, remember that change is a constant in the digital world. Because of the ever-changing technology, increasing demands, the ever-evolving customer expectations, and the ongoing competitive environment, you need to update your website regularly.
Here are 7 'must-haves' a brand website needs if it is going to be effective and help your business grow.
1. An Intro Offer
Do you have an incentive to drive visitors to book their first appointment with you or to make them buy your product? If you don't, it's time to create one. And it should be the focus of your brand website template. Around 70% of website traffic is from prospective customers who are checking out your products or services, and an intro offer can help them make a buying decision quickly.
Test and measure your web intro offer regularly. This will help you see what's working and what needs improving.
FREE Checklist: Branding For Small Businesses & Bloggers
2. A Unique Design
You've most likely spent a lot of time getting your offline business branding right. Your online presence should be no different. The first thing that draws prospects to your website is how it looks and how it makes them feel. If you want to boost conversions, your website should be eye-catching and deliver a clear message to visitors. Use images, graphics, and informative content that will make visitors explore more.
Overall, create a website design that makes potential and existing customers feel welcome and valued when they land on any page on your site. Get a custom design that sets you apart from the competition and makes your brand memorable. So, avoid some out-of-the-box designs that a thousand other people have.
3. Have a Mobile-Friendly Design
These days, it goes without saying that your website must be mobile responsive. Over 65% of website traffic is from mobile and if your site doesn't work well on a smartphone, you're losing a lot of customers. To avoid losing customers and generate more sales, you must have a responsive way to deliver to customers what they're looking for in the shortest amount of time possible.
4. Social Integration
How does a customer who's never heard of you decide they want to do business with you?
You probably guessed it right – they try to find out if you're a trustworthy business. So they'll check online reviews, and they may ask their friends what they know about your brand. Also, they'll check your social accounts. Hopefully, you have a strong social media presence.
What happens if, for instance, a company has 10 Facebook likes, and they have nothing on their Facebook page except their logo? Will you do business with them? It does matter what Google or Yelp reviews say.  Few people will give their credit card information to such a company! It's just not trustworthy.
So it's time to engage actively in social media and boost your engagement. This will make your business credible. Integrating social media platforms into your website will boost your rankings on the search engines,  build your following across multiple social platforms, and boost your business's social proof.
Maintaining a social presence across multiple social platforms will assist your growth as long as you deliver high-quality content consistently.
5. Credible Content
You may have the best website design, but it means nothing if you don't offer and display content that builds trust and assures the capability of your company. Some content that serves this purpose include:
Business/ industry accreditation badges
Case studies
Customer reviews and testimonials
Notable accomplishments recognition, such as press releases and awards
Social account links with reviews
6. Security
It doesn't matter whether you sell products on your website or not. If you collect any information, your website must have an SSL certificate (Secure Sockets Layer). SSL encryption creates a secure link between your website and your visitor's browser and prevents hackers from stealing private information such as credit card numbers, names and addresses.
Also, you must use a dedicated server. Avoid going for the cheapest hosting package. Using a dedicated hosting makes your website load faster than if you were using shared hosting.
A shared hosting poses many risks to your website. For instance, you could be sharing an IP address with a porn or spam site. Many businesses have experienced drops in rankings and ultimately declining business because of this.
7. FAQs Section
Customers have many questions and concerns. As you receive feedback and hear concerns from customers via email, compile the most frequently asked questions into a list and give clear and concise answers. Frequently asked questions mainly revolve around materials, ingredients used, shipping information, sizing, and cancellation or return policies.
Free Checklist: How To Make Your Brand Website Stand Out
You can't underestimate the importance of branding. Your brand is communicated through every single action your business takes. It's communicated on your brand website, in your content, in marketing materials, in social media posts and with any interaction you have with a prospect or customer. Branding is communicated both online and off.
Download my free Branding Strategy Checklist that provides actional tips on how to build a brand strategy and reach your target prospects, provide a positively memorable experience related to what you have to offer and improve customer retention.