Retargeting Marketing Explained In Simple Terms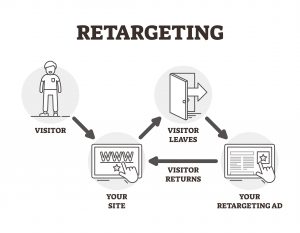 In a nutshell, retargeting marketing, sometimes called remarketing, is a strategy that targets an audience who already knows your business because they have in some way already engaged with it.
For example, if your audience visits your website,  you can deliver ads such as banner ads and social media platform ads about your business on other websites that they visit.
Essentially, display ad retargeting is all about using technology such as pixels and cookies that enable you to deliver ads to your previous website visitors. There are many benefits to using online retargeting advertising to get your messages in front of your audience.
Keeps You at The Top of Mind of Your Audience
Most people aren't going to buy from you the first time (or even the second time) they visit your website or landing pages. In fact, studies show that people need to be exposed to your brand multiple times to start to trust you enough to make a purchase. Each exposure increases the chance of them making a purchase.
Raises Brand Awareness
The more anyone is exposed to your branding, the more they're going to notice your brand. When you run ads, sometimes the point is for the customers to see your offers and the opportunities you have. Those types of ads may look slightly different than an ad to get a direct buy, but they work.
Even though some of your site visitors will not click on the advertisement when they see it, it will still make them think about your website and your business. Therefore, it will create more brand awareness and help them think of you more often.
Click Here To Step-Up Your Advertising Game With Retargeting
Increases Return on Investment
It's so much easier to market to someone who already knows what you offer. You're starting with a little advantage over if they are a cold audience. If they already clicked through to your website or landing page, they already are interested, so any ads are going to be more effective for them.
Starting a retargeting plan isn't expensive. In fact, since ads are an investment, you won't lose money by engaging in a well-thought-out retargeting campaign directed toward previous visitors to your website. In many cases, businesses are reporting that it increases their conversion rates by more than 147%.
Essential Component of Online Marketing
Retargeting is so important that you should add it to your marketing funnel right away. If you have a landing page at all or a website at all, you need to use retargeting to help you earn more money because it works.
Technology Makes it Simple
Today the technology used for retargeting works so seamlessly that you don't even have to understand how it works. Just follow the detailed instructions given by the advertising platform you choose, and it will work.
Facebook retargeting is one of the easiest sites to run a retargeting campaign on and offers a lot of options to at least get you started. Facebook will provide a pixel for you to install (and give you directions to do it) on your website so that your visitors get one on their browsers so that the platform can identify the right people to deliver the ads to. This way you can create ads on Facebook that go to people who visited a specific page on your website. While it's very targeted and easy to use, it's only going to deliver ads to Facebook and Instagram. However, it's very effective and more than likely your audience uses these platforms.
Makes More Sales
Your sales will increase when you use retargeting. The more your customers and audience are exposed to your offers and brand the more likely they are to purchase. Most statistics in marketing point to a new person needing 7 to 14 exposures to your brand before they make a purchase.
A retargeting campaign improves conversions by up to 147%. Therefore, you can expect a lot more sales when you embark on a well-thought-out remarketing or retargeting campaign. Be sure to create ads that are specific to the pages they are leaving.
Remember That Clicks Don't Equal Money In The Bank
The data you get from individual ad networks only gives you part of your buyer's story. You need to know how your ads are influencing contacts at every stage of the buyer's journey. Using the Hubspot Ad Tool, you can track the ROI of your Facebook, Instagram, LinkedIn and Google advertising with precision. See which ads influenced everything from a contact's first web session, all the way through to them making a purchase. Get a free demo to see how you can target and track your online ad campaigns and start seeing which ads actually work.