Quick Guide To Getting Business Leads On LinkedIn
LinkedIn is an innovative social platform for professional people looking to connect with others. As well as finding potential jobs, looking for potential employees to recruit and learning more about people you're about to meet, you can also find new business leads on LinkedIn.

But remember that LinkedIn is a social media network. All social media sites are social in nature. People go to these sites to socialize and meet others with similar interests, and not to have you try and sell them on your products and services.
Let's take a look at how to generate business from Linkedin and move a prospect to a customer.
7 Ways To Find Business Leads On LinkedIn
Explore the LinkedIn Groups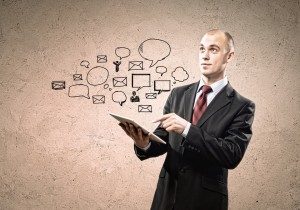 You'll find like-minded people in LinkedIn groups – a platform which allows people to come together and discuss a particular topic or a range of topics relating to a broader subject. You should never post links to your website on groups without any message or background and without already establishing yourself within the group.
This can take time to build a presence and reputation within the groups of your choice, but it will certainly pay off in the end.
FREE Checklist: LinkedIn Marketing For Business Owners

Use Images On Your Posts
It's scientifically proven that people are more interested in something which has images or videos. We are much more likely to click on something online or stay longer on a webpage if there are pictures or graphics to keep us occupied. Since businesses on LinkedIn are now able to tailor their posts to reach certain groups of people, it's even easier to target the people you need.
Tailor Your Messages
You can create custom messages to be sent to certain groups of people on LinkedIn. This means that you can tailor and customize the message exactly as you please, using the wording of your choice to try and attract your target audience to click a link, message you back or sign up to your newsletter.
Search For Related Keywords
People who have some form of interest in your business are more likely to follow up and do something positive. This is a much more painstaking way of finding business leads on LinkedIn and requires some careful thought and time, but it pays off well if you do it properly. Somebody who has spent many years working in the same industry as you could be a valuable connection
Publish a Free Report 
On LinkedIn you can use some links to go to an eBook or PDF report on your website. When they get to the report, as the user to submit their email address to download it for free. Ensure that you put them on a segmented list based on those who download this specific report so that you can market to them personally.
Purchase LinkedIn Ads
You can, of course, place Linkedin lead generation ads. Use them to get the message out about your products and services and to encourage people to sign up to your email list. Tell people what you offer in your email list, and how it can help them and they will be more likely to sign up.
Connect with Profile Viewers
You can see who has viewed your profile and connect to them if you're an upgraded member. It's a great way to start a conversation. Just say, "I noticed you looking at my profile, and I wondered how I might assist you." Let them know what you do and that you can serve as a resource for them.
Free LinkedIn Marketing Checklist
LinkedIn is often called the Facebook for business professionals. You get a much more professional, business-oriented experience on LinkedIn than on Facebook. This means you can connect with legitimate business leads on LinkedIn, expand your circle of influence, grow your business, and improve sales and profits. Download my free LinkedIn Marketing Checklist to for more tips and best practices to help you effectively market your business on the world's largest professional social media network,