Branding has come a long way in the last few years. With the advent of technology, the ability to communicate with anyone, anywhere, has changed everything. Most of the things we seek out are now commodities, from data plans to shopping online.
Now, brands must find new ways to stand out, and often that requires being a lot more personal and relationship focused than ever before.
It's essential to be customer focused in a way that enables you to create customer experiences that fit your target market. From the time they visit your website, group, or another online real estate, they should know what your brand represents and how you will serve them. When it comes to your customer experience online, whether you're engaging via email or in your Facebook group in a private community, the experiences your customers have are all related to your brand. Everything should all be laser focused on your customers.
Creating A Good Customer Experience Online
Connecting with your customers on an emotional, transparent, and mutually beneficial level is completely possible with the customized customer experiences today. It may take a little more work to set everything up, but once you have it set up it's almost automatic.
1. Create Your Customers' Vision
One way to do this is to ask them what they want. Then, turn the customers' ideas into your customer service handbook and your customers' 'bill of rights'. Share this with anyone who is involved with creating customer service experiences within your business. Plus, share the bill of rights with your customers so that they also know what to expect from their customer experiences.
2. Know Your Customers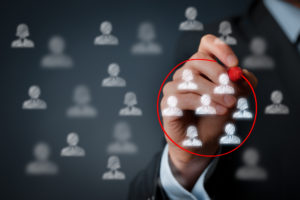 If you don't know who your customers are, it's going to be hard to give them the type of customer experience online they expect. The best way to get to know them is to talk to them, engage with them, and find out about them. Read what they read, join the groups they're in, and be on the social media they're on. Know them and you can provide better experiences for them.
3. Connect Emotionally
Today, it's not enough to just talk to your customers and be open to them talking to you too. Now you need to connect on an emotional level with them so that you know what makes them tick. What are their pain points? What keeps them up at night? When you can show them that you can relate to these issues, they're going to want to deal with you.
4. Collect and Use Customer Feedback
Make it easy for your customers to provide feedback about everything that you do. But, take that a step further and ask them for the feedback. Anytime a customer needs to communicate with you, send a survey asking them how you did, for example.
5. Provide Training to Team Members
When you hire people, whether they're contractors or employees, it's imperative to share with them your expectations about how you want the customers to feel when they deal with you. Make it very clear through the customers' bill of rights and the technology you give them to do their jobs.
6. Track and Measure
Always track and measure anything you do. You can't know for sure if anything works and whether you should continue it or not unless you track and measure everything. Don't keep doing things that don't work just because you're attached to them.
Free Guide To Small Business Branding
Branding is important for small businesses as well as large companies. If you have a limited budget, smart branding is perhaps the most inexpensive business tool to create a positively memorable experience related to what you have to offer.
Companies that use branding correctly understand their website often provides one of the first interactions with their business. This means setting your website up in such a way that it relays the values and overall feel of your brand and business. Download my free checklist, Branding For Small Businesses for more actional tips on how to build brand loyalty and improve your customer experience online.