3  Ways To Increase Your Affiliate Marketing Income
Affiliate marketing income is the money you earn in the form of a commission when you sell products or services on behalf of another business. The big benefit is that you don't have to create a product, sort out delivery, manage payment systems or customer queries. The product creator takes care of all those things. Your job is to find potential customers and encourage them to visit the websites you recommend. Websites like Amazon and eBay offer a huge variety of products that you can sell as an affiliate.

However, selling affiliate products online can be challenging, especially because there's a lot of competition and too much noise.
So, it can seem near impossible to catch customers' attention and make them buy your affiliate products. If you're finding it hard to increase your income, here are 3 tips that can help you grow your affiliate marketing income.
3 Ways To Grow Your Affiliate Marketing Internet Business
1. Create a Sales Funnel that Converts Visitors into Buyers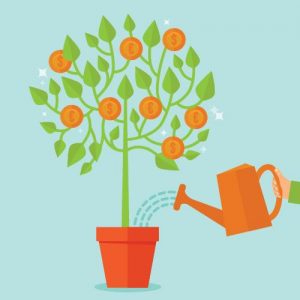 A proper sales funnel can help you convert your website visitors into buyers. Look at profitable blogs that make passive income by promoting affiliate products and you'll notice they all have one thing in common: they all have a sales funnel.
Many marketers get attracted to high paying affiliate programs but don't make any sales because they forget to create a sales funnel that can convert visitors into buyers.
Any successful sales funnel begins with awareness. So make sure you give your website visitors a clear picture of what you're offering. When you know what you want to sell, it becomes easier to create awareness. You can use your blog posts or email lists to educate your audience about the products you recommend.
Build a connection with your audience. Because if you're genuinely interested in solving their problems through what you promote, they'll gladly buy what you recommend. So stay in touch with your blog readers through emails, blog comments, and social media platforms.
One of the main reasons affiliate marketers can't boost their sales is because they force customers to buy what they're selling. If you're too aggressive, customers will be put off by what you're offering. Instead, just recommend why they should buy the product. Show them all the benefits they'll get if they buy it.
After successfully nurturing your visitors to buyers, you'll be able to build a great sales funnel that makes more sales.
FREE Checklist: Affiliate Marketing For Beginners
2. Offer Incentives
Focus on what you recommend to your audience because if they find no value in your products, they won't buy them. Think about how customers benefit from purchasing the product or service you're promoting. If you can answer that question, then you're on your way to increasing your affiliate marketing income.
If you're new to affiliate marketing, make sure you offer some incentives to customers who buy what you're offering. Very often affiliate marketing companies will provide their affiliates with reports, ebooks, videos, etc that they can give away to prospects for free to help promote and sell the products or service. Make sure you use these. Free trials, ebooks, reports and video demonstrations when appropriate can go a long way to convert someone on the fence.
If nothing is provided, create your own ebook or video on how to use the product or service that your promoting. This will be unique to you so no other affiliate will be able to offer it.
3. Focus on Improving Your Conversion Rates
There's no point of generating 1500 visitors a day to your website if none of them buys your products. It's better to generate 100 visitors and get two to five sales from them.
Therefore, instead of focusing on increasing your website traffic, focus on increasing your conversion rates. Analyze your current website analytics and conversion data regularly to figure out if you're on the right track. This will help you know where the bottlenecks are so you can easily fix them without missing the opportunity to boost sales.
So, how can you improve your conversion rates? The answer is to perform A/B testing. A/B test your calls-to-action to determine which one gets more visitors to click. It's one of the best ways to improve your websiteís conversion rates.
For example, if you have two headlines for your landing page and you can't decide which one to use, you can perform A/B testing to see which headline generates more click-throughs.
Here are things to test when performing A/B testing:
The Headline. The headline is the most crucial part, as five times more people read the headline than the body copy. And if you don't sell your product in the headline, you've wasted 80% of your money.
The Offer. Do your audience need the product to solve a problem? What happens if you offer discounts or use different calls-to-action?
Your Text. Test long copy versus a video to see what content works better.
Free Checklist: Beginners Guide To Affiliate Marketing Income
Remember, the only way you can boost your affiliate income, in the long run, is to engage continuously with your audience. Don't treat them as buyers, treat them like friends. And by knowing their problems and recommending products that solve their problems, you can convert visitors into buyers.
Success comes from choosing the right niche, staying committed and understanding your audience. You can make unlimited profits from affiliate programs, but it will take time. For more information on how to grow your affiliate marketing income by selling other people's products and services, download my free checklist, Affiliate Marketing Training For Beginners.