How To Get Clients From LinkedIn
Like many online business owners, you can reap a lot of rewards when you follow a proven path to marketing success and get clients from LinkedIn. A full 66% of business to consumer (B2C) marketers use LinkedIn and 79% of B2B marketers have stated that LinkedIn is effective for generating qualified leads.

However, it's important to remember that LinkedIn is a social media network and not a sales network. You have to interact with your audience on a regular basis and provide real value. Think connections, not sales. Think of your market's needs, not your own. You can't just create a partial profile, disappear and expect new clients to magically come your way.
Here are 9 tips to help you get clients from LinkedIn.
How To Get Clients On Linkedin
1. Craft a Stellar Profile
Don't waste space with your LinkedIn profile. Use every space offered to make the most of your profile. Include a professional image, along with your professional work history. Make the profile work for the jobs you want, not the jobs you have.
2. Use Bullets and Whitespace
It's hard to read groups of text online without using bullets and whitespace to give the eye a break. Even in the summary section it's important not to write a bunch of text all together, as people won't read it.
FREE Checklist: LinkedIn Marketing For Business Owners

3. Include Examples of Your Work
LinkedIn offers you the ability to upload examples of your work that other social sites do not.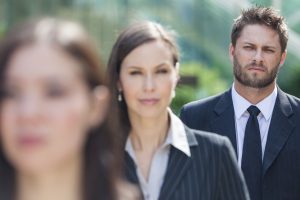 Even if you can't include actual samples due to non-disclosure agreements, create some examples for your portfolio that can be shared. People want to see what you can do, and you have an unprecedented opportunity to impress them.
4. Add Video
Most online professional social networks don't offer such an organized means of sharing your work, allowing a lot of information to get lost. With LinkedIn you can easily add in video. Some great examples to use are a video introduction, recorded presentations and speeches, and how-to videos. These will show your expertise in a way that resonates with your audience.
5. Ask for Recommendations
LinkedIn offers an easy way to ask for recommendations. Be sure to take advantage of it but go a step further by personalizing your requests rather than sending a mass message that is the same to everyone. You'll get a better response and they'll appreciate your having taken the time to remind them about what you did, the results of what you did, and how you remember them.
6. Contribute Content to LinkedIn
You can become a LinkedIn publisher by clicking the little paperclip on the right side of the status bar. This enables you to create longer articles than a normal status update. Use this to contribute professional articles with images. Don't use it as a way to blog, but use it as a way to demonstrate your knowledge and expertise.
7. Share Important Industry Updates
Show your expertise by sharing important information about your industry from trusted sources. Make comments on what you share, to add to and start a discussion about the information that you're sharing. Even if you disagree with what you're sharing, say so with evidence-based research why.
8. Engage with Other Members
When reaching out to clients on Linkedin by connecting with them and building relationships, it's imperative that you also contribute to other people's conversations, questions, and messages. This will help you showcase your expertise but also your willingness to communicate with others, making you stand out from the rest.
9. Find Out Who Looks at Your Profile
A great way for searching Linkedin for prospects is looking at who has seen your profile. If they look like someone who needs the services that you provide make sure you send these Linkedin prospects an InMail, or if they have provided enough information, contact them outside of LinkedIn to see if they need the services or products you're offering.
Free Guide: Get Clients From Linkedin Marketing
You really can get more clients if you work at it on LinkedIn. You can improve your professional image, develop your reputation as an expert, and win new clients using your LinkedIn profile.
Whether you're marketing directly to consumers or to other business professionals, LinkedIn can help your business. To get the most out of your time on this potentially game-changing social media site, you need to know how to market "the right way". For more tips and best practices on how to get clients from LinkedIn download my free LinkedIn Marketing Guide.