If you polled 100 people about which type of content they would rather see online, you'll receive a vast array of answers. Some love to read blog posts while others prefer to watch a video about the same subject. Some people learn best by studying infographics while others prefer listening to podcasts. No matter what your niche, you'll have ideal customers who learn and absorb your content in a variety of ways. If you reuse or repurpose content that you have created, it's an effective way to attract all those customers into your sales funnel.
It all boils down to the various learning styles: Visual, auditory, reading/writing  and kinesthetic (absorbing information through touch, movement and motion). To ignore one of these styles is to essentially ignore a part of your audience who also needs help solving a problem. Don't think this will greatly increase your workload, however. To repurpose content into different mediums is the easiest way to boost your content output by implementing 3 simple steps.
FREE Checklist: 5 Step Content Strategy
3 Steps to Repurpose Content
1. Create Content Using The Medium You Prefer
If you have a preference for writing, start off by writing a blog post. If you're a natural talker, record a video. The point is to create your first bit of content with the medium you're most comfortable using so you don't use excuses to sabotage the process. Publish the content and start promoting it.
2. Take This Content And Turn It Into a Video, Transcript, Audio Course, or Infographic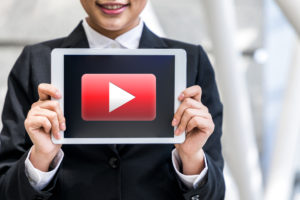 If you started off with a blog post, record your voice reading the post and use it as part of your podcast or as a bonus for your email subscribers. If you created a video first, order a transcript to post along with the video for those who prefer to read. Quick tip: Hire experts for transcription, video slide deck design, or graphic creation so you're not using more excuses to avoid repurposing.
3. Bundle Content Together To Sell
After months of creating and repurposing your content, you'll create quite the library but don't allow it to gather dust on your hard drive. Bundle written blog posts and create an eBook. Gather your audio files and create an audio class. Collate multiple webinars into a tutorial or class lessons. Bundling is a form of repurposing and is an easy way to create a new product to sell or to use as a lead magnet.
Bonus Tip
Promote your multimedia content regularly. When you're creating videos to post on YouTube, start promoting your YouTube channel to attract those avid video watchers. Include a link in your video descriptions to your email opt-in so you can reach them after they watch your videos.
If webinars are your strong suit, create evergreen webinars that can be replayed at your chosen intervals. Webinar registration is another easy way to obtain those valuable email addresses.
Repurpose your webinar slides by sharing them on SlideShare so others can browse and learn about your business. Not all your customers will use your chosen social media platforms so don't ignore these other multimedia options for attracting customers.
Free Checklist: The 5 Step Content Strategy
The most important thing is that you get to know your audience so that you know exactly how they want the content you create designed and delivered to them. Creating good content is all about following a process that helps you cover all the arguments your audience may have in their mind about the solution you're recommending. To help make this process simple, download the free checklist, The 5 Step Content Strategy to discover the key content marketing tactics used by the most successful online entrepreneurs.