Setting Up Your Facebook Retargeting Strategy
A retargeting campaign on Facebook gives you the opportunity to re-engage with people who came to your website, but didn't purchase. You can create ads on Facebook that go to these people who visited your website. This means you get a second, third, fourth, and even more chances to convert your customers and prospects.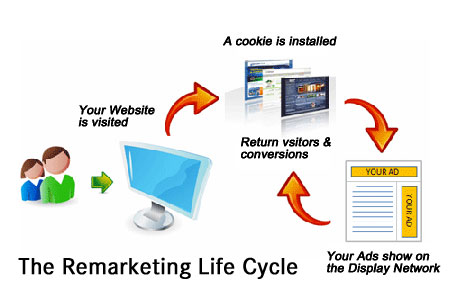 The basics of setting up a retargeting campaign on Facebook are really quite simple and straightforward. Here's how you do it.
How Does Facebook Retargeting Work?
Using Facebook's Custom Audiences feature, you install a snippet of code on your website that will place a cookie on the computers of those who visit your website. Once installed on your website, the code will send information back to Facebook about which pages were viewed on your site by a specific visitor.
You then use your Custom Audience Preferences to retarget to different segments.
For example, you might retarget people who visited a certain page, or even those who went to your shopping cart but didn't make a purchase for some reason. Retargeting is a great way to re-engage with your customers and give them another opportunity to make a decision about your product or service.
Click Here: Beginners Guide To Retargeting
How to Set Up a Retargeting Campaign On Facebook
1. Log in to your Facebook Ads Manager and select Audiences
You'll find Audiences in the dropdown menu when you click on Business Manager at the top left-hand side of the screen.
2. Click on Create Audience and Select Custom Audiences
Again, you'll find Create Audience at the top left on your screen. For retargeting, select Custom Audience, which will allow you to set up a campaign that reaches people who visited a website.

3. Select Website Traffic
You have some options here but for retargeting, be sure to focus on website traffic so that you're reaching the people who visited your site.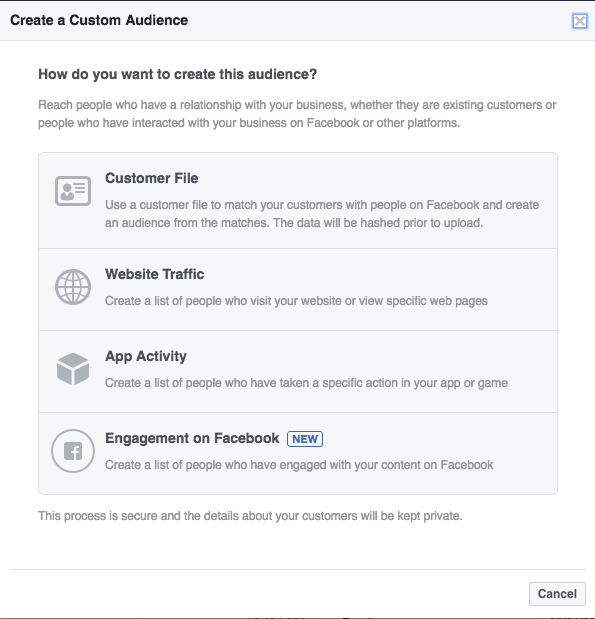 4. Select Your Target Audience from the Dropdown Menu
You'll be taken to a screen, as seen below, that allows you to create your audience. You have the option of targeting the following:
Anyone who visits your website
People who visit specific pages
People visiting specific web pages but not others
People who haven't visited in a certain amount of time
Custom combination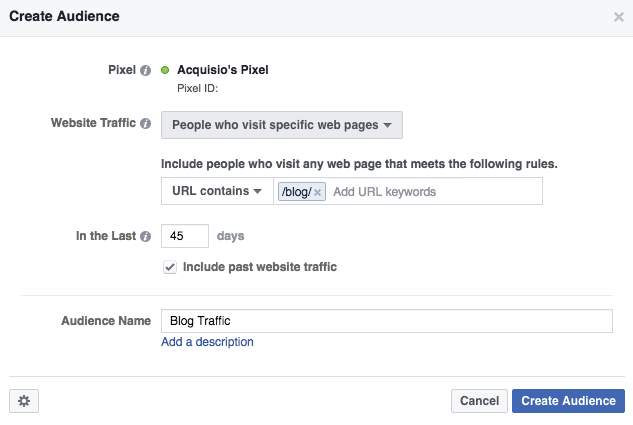 5. Get Your Pixel Code and Place It on Your Website
If you don't already have a pixel (tracking) code on your website, you'll need it in order to start retargeting. Pixel code is the code that you'll need to put on your website to track visitors.
The code will place a tiny pixel on your website that is transparent and can't be seen. It allows the visitors to your site to be tracked. By knowing they've seen the pixel, you know they've been to a particular page of your website or have taken a particular action.
To get the pixel code, go to your Audiences section of Ads Manager and you'll find your new retargeting campaign. Select it, and then click on Actions and then View Panel in the dropdown menu, as you see below.
You'll then get your pixel base code which you can place on your website if you're able to, or have your developer put it in there. If you use WordPress, there is an official Facebook plugin that you can use to install the Facebook pixel on your website.
Making Your Retargeting Campaigns Successful
In order to generate maximum returns from your retargeting campaign on Facebook, you'll have to make sure you're attracting attention from your audience and giving them a compelling reason to respond to your sales funnel.
Start by planning your campaign. What is it that you want to achieve?
Do you want to retarget those who got to the purchase page, but didn't go any further?
Maybe someone checked out a certain product on your website, but didn't pull the trigger and buy. You could retarget these folks with an ad offering a discount, or free shipping.
Once you know what you want to do, create an ad that will catch the eye of your audience and compel them to click on it. The example of the ad below does a good job of both by offering a discount, which is a great reason to return to Amazon and make that purchase!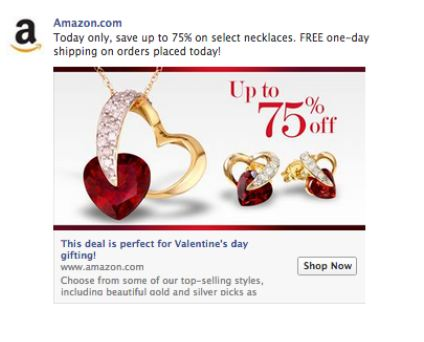 Remember That Clicks Don't Equal Money In The Bank
The data you get from individual ad networks only gives you part of your buyer's story. You need to know how your ads are influencing contacts at every stage of the buyer's journey. Using the Hubspot Ad Tool, you can track the ROI of your Facebook, Instagram, LinkedIn and Google advertising with precision. See which ads influenced everything from a contact's first web session, all the way through to them making a purchase. Get a free demo to see how you can target and track your online ad campaigns and start seeing which ads actually work.