What Are Short-Form Videos?
The question isn't whether you should leverage video in your content marketing strategy. It's how long your videos should be to get the most out of them. Because today, more than ever, consumers are skipping ads and their attention spans are increasingly declining.
Click Here: FREE Youtube SEO Cheat-Sheet
Why Short Videos Are More Effective
The fight for attention and valuable storytelling is here. This is why short-form videos are so important. Since YouTube launched the 6-second YouTube "bumper" ad it's clear there's a huge demand for short-form videos.
Consumers are consuming more and more of this kind of content, and as video length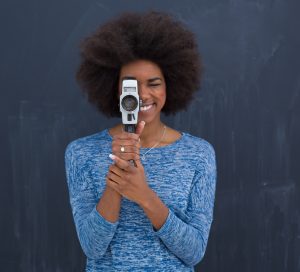 decreases, so does the viewer retention. Video marketing largely depends on your audience – and younger audiences want shorter, snackable content to engage with several times per day and across multiple channels.
Because attention is waning, you need to look for innovative ways to interact with your target audience. The benefits of short video are they intrigue your audience, as well as amplify and reinforce your message.
The ideal video length for short-form videos is 30-60 seconds long. It keeps viewers engaged and leaves them wanting more. So what types of short-form videos can you use to boost engagement and conversions?
1. How-To or Product Tutorial Videos
Showcasing your products or services using short-form videos is the easiest way to jump onto the short form video market bandwagon. These videos are easy to plan out because you don't need be too innovative. Consumers just want to see how they can use your product or service, with explanations that make it as simple as possible.
2. To Showcase Your Specialty
You need to be creative with this one. First, choose a speciality product or service that you offer and make a video about that subject ONLY.
3. New Product or Service Teaser
Product or service teaser videos are a great way to leverage short-form videos to boost conversions and sales.
Apple produce some of the best short form video ads. How do they unveil a new iPhone? They drop a simple, short-form video teasing the new iPhone and fans go crazy. New product or service reveals are great video subjects because they build anticipation and get consumers excited to make a purchase.
4. Behind the Scenes
Humans are naturally curious. So if you've something awesome behind the curtains, show it off. Show your customers that you are human.
Having an office dance-off? Share it with your social media fans. Are you having a heated (friendly) debate over a business-related issue? Record it and share it with your audience.
Be real and show off what's going on in your daily operations. Consumers want to know if there's a real person behind the screen, so show them. Your video should be 30-60 seconds long to keep viewers engaged and leave them wanting more.
Thus, short-form videos are perfect for showing your customers what happens behind the scenes. These videos also help you build strong connections with your audience.
5. Product or Service Hacks
Do you offer products or services that have multiple purposes? If so, creating a "hacking" video is a great way to engage with your customers. Brainstorm a few ideas to "hack" (or repurpose) your product. Sometimes, customers don't know all the cool features a product may have. So, create a 30-60 second video and show them.
6. Employee-Generated Content Videos
Employee-generated content videos provide another great way to leverage short-form videos to reach a larger audience. Your content will generate more enthusiasm if you engage your team to create the materials themselves, in their voices and styles. To gain momentum, you can combine content creation with contests and employee spotlights. It'll incline your employees to share these types of videos, which means a larger audience for you!
7. FAQs
Do you receive frequently asked questions? Answer those questions on video. This is another great to leverage short-form videos. List at least 3 to 5 FAQs that you know customers would like answered, then answer each question using a 30 to 60 second video.
The Quick Way To Make Short-Form Videos
Once you understand what portion of your audience you want to market your videos to, and you know the goal of each video you create, you can be much more successful. Plus, you need to know how you're going to make your videos, how to use SEO to get more organic eyes on your videos, and how you're going to distribute the videos.
This is why many business owners avoid internet video marketing. They think it's too time-consuming and laborious because of the editing, aspect ratios and file formats to fiddle with. But now it's easy to create professional high-quality marketing videos for your business – and you don't even need to appear on camera. Try out this video marketing software for free and see how your short form video production can be faster and less effort than you ever thought possible.