How To Become A Better Blogger
Once primarily a medium for everyday people to express themselves, blogging has become a powerful tool for businesses. It's very inexpensive, requiring only a domain and a hosting account to get started.

But even though blogging is a simple process it still requires a reasonable amount of work. While content writing for blogs is straightforward, getting the traffic and the revenue from your blog that you want is a tougher proposition.
If you've been blogging for a while and still aren't seeing the traffic or revenue numbers you'd like, here are 5 ways that you can become a better blogger.
5 Ways To Become A Better Blogger
1. Update Your Content Often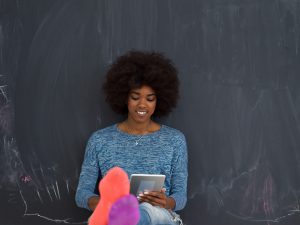 There's nothing worse than losing traffic you've worked hard to attract because you don't update your blog. You might not post every day but you can be sure that your readership will drop off it you only post once a month. Readers like fresh content and they will go where they can get it. If you're struggling for time to write new content, hire a freelancer to produce content material for you on a regular basis.
Outsourcing allows you to free up your own time for other tasks that require your attention. Also, it enables you to get people who are more skilled and knowledgeable than you to complete tasks that take you too long to complete. Outsourcing works well if you have more than one blog and not enough hours in the day to manage them all.
FREE Checklist: 21 Days To A Better Blog

2. Network With Others
Get your content out there. Social networks like Facebook, Twitter, Instagram and Pinterest are great ways to connect with new and existing business partners, customers and prospects. Once you develop a network of people with similar business interests, you can post things to everyone on your network. Not only will they pass it on if they're interested, but their contacts will see it on their page and will look at it too without your contact having to do anything. Pretty soon, your content and marketing materials are spreading through the internet like wildfire.
An important thing to consider when using social networking sites is not to spread yourself too thin. If can be tempting to use every single site in order to reach every single potential customer. But if you're using so many outlets, you're going to use up a lot of extra time and resources to reach just a few more people. A more intelligent plan is to focus all your resources on one or two sites. That way you can launch a targeted campaign that will probably give you better results.
3. Pay Attention To Your Readership
Your blog is a medium that your audience can relate to. Blogs are usually less formal in tone than business websites, giving you an opportunity to really connect with your target markets.
When people comment on your blog, they generally want you to answer them back. Some ask questions and some just want to let you know that they agree or disagree with what you've said. Take the time to talk to them. After all, they took the time to visit and post a comment. Their comments can drive the direction your blog takes in the future if you want to keep them as readers and increase your traffic.
4. Mix Up Your Content
Don't stick with one blog post template and just limit your content to text. Content can be read, watched and listened to.Think about doing a video blog post. Video blogs, sometimes called a vlog, are a great way to increase engagement and speed up brand awareness. Video is shared and engaged with more often than text.
Mix up your content material too. Content which is classed as 'evergreen' means that the information presented doesn't go out of date, so it's still relevant in years to come. Some great themes for evergreen content include:
How to …
FAQ on …
10 tips to …
5 ways to …
How to get rid of …
To become a better blogger, you need to know what's going on in the world yesterday, today and tomorrow. Some important issues stay in the headlines for months but your audience will want fresh updates on those topics. Knowing what is going on around you and what will interest others will make your blog content worth reading and sharing.
5. Keep Your Ads To A Minimum
Ads are a way for bloggers to make money with their sites. That's all well and good and a few ads are great and will attract attention. If you post too many, however, visitors might be turned off. You want your content to be the main attraction. If the ads coordinate with your blog niche, that's good but only place a few and at the top of the page if you want them to be clicked regularly by visitors.
A blog is a great way to make your customers and potential customers feel like they know you and can trust you with their business. Sure, it's not a real face-to-face conversation, but blogs give you regular contact and are generally much more personal than sales letters or even normal business email. They turn you into a person, not just a business.
Free Checklist: 21 Days To Become A Better Blogger
A blog is essentially a relationship-building tool. Your target market could find your blog through search engines or links, read it, and decide to see what your business has to offer. It could give them the push they need to become paying customers. When you know how to write an engaging blog it becomes a valuable asset to your online business. Download my free checklist, 21 Days To A Better Blog to discover 21 different one-a-day tasks to become a better blogger.