Blogging Your Way To Profits
There are over 500 million blogs on the internet but not all of them are there to make money, so don't be intimidated by these numbers. Instead, be motivated. Once you have a good number of blog posts and readers you can start to make money blogging online.

Blogging your way to profits is possible, and if you know what you're doing, almost a certainty.
8 Tips To Help You Make Money Blogging Online
At first, your blog should be about sharing your ideas, and when you start gathering a good audience then you can start finding ways to monetize your blog. In reality, you should have known if your blog idea was something you could earn money from when you started blogging, but if you've already started a blog, but now want to monetize it, that can be done. If you have an audience, you can make money.
1. Choose a Niche You Love and Know About
Choose a topic for your blog that is something you already like learning about and you already know something about. This makes it easier for you to get started fast. If you can write down 50 ideas for blogs for your niche, you can make money from your topic.
2. Build Up Your Readership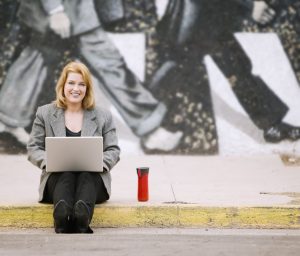 When you first start blogging, don't think much about monetizing just yet. Although it's a good idea to research how you'll monetize when you're ready, right now it's all about building up your readership.
Promote your content using paid ads, search engine optimization, social media, and other means to get the word out. When you provide good content your audience grows to know, like and trust you. And when you solve big problems in the lives of your prospects, they reward you with loyalty, traffic, sales and profits.
3. Build an Email List
Using an email autoresponder service like AWeber.com, create a sign-up for an email list on your blog. Invite people to sign up for the list so they can get notifications of new content, tips, tricks, or whatever you want to offer them that makes it worth it for them to sign up.
4. Develop a Content Marketing Plan
Once you have the ideas you want to blog about listed, you'll want to develop a solid content marketing plan along with an editorial calendar. If you just wait for inspiration to blog every day, it won't happen. Instead, create a plan so that you know what you're going to blog about each day in advance.
5. Start Monetizing Your Blog by Becoming an Affiliate
You can join affiliate programs that make you a seller of products, services, and information that other people have created. When someone buys it due to your recommendation, you'll receive a commission for each sale. Choose products that fit your niche and resonate with them.
6. Create Your Own Products
As you continuing blogging and start to understand your niche and your audience more, you'll naturally come up with ideas for creating your own products. You can also buy private label rights content and build your own products that way to sell to your audience. And, you can hire someone to create products for you.
7. Offer Your Own Services
You can offer services that are related in some way to your niche but also somewhat out of it. For example, you can provide writing and editing services, or website building services using your blog as your example. But you can also offer services related only to the people who will consume your information.
8. Publish Regularly 
It's important to realize that once you begin a blog, it is vital that you add new content regularly. It doesn't mean you have to write a new post every day but posting a minimum of once a week can do so much for your business. This way, the search engines start mapping your site and tracking you. Plus, the more pages you have on your site (and each blog post is a page), the more visitors you're going to attract.
Free Checklist: 21 Days To A Better Blog
Blogging for profits means that you understand your goals and objectives, who your audience is, what they want, and what their intent is at the point they find your content.  It also means that you publish and promote high-quality content on a regular and continuous basis that is smart, well researched, and relevant to your audience.
For more tips on how to make money blogging online, download my free checklist, 21 Days To A Better Blog and start getting your blog to achieve the results you deserve.