It's easy for a brand owner to get caught up in selling products and think like a classic salesman or marketer. However, that is a quick way to fail and lose sight of what really matters. People want to feel heard, valued, and trust you in today's online world before they make a purchase.
That's why the very first thing you should do if you want to build your online brand is to be more personal and human. Stop trying to run like a machine or corporate entity all the time. Break away from that bad habit and appeal to your customer's emotions and values, and show them how you are there to value them, not use them.
FREE Checklist: Branding For Small Businesses & Bloggers
5 Ways To Build Your Online Brand
1. Start With Your Audience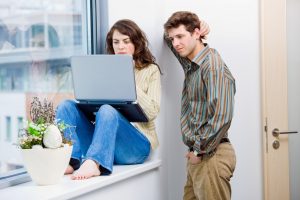 Always make sure your customer is front and center for the reason your business exists if you want your brand to make an impact. Many businesses fall into the bad habit of thinking they are the hero and star of the show. However, that's not the case.
Solving your customer's problems is, and that's how to get them attracted to your brand. Know who your audience are and make them the star of the show.
2. Utilize The Right Social Media Platforms
Ask yourself "What platforms do my target audience use the most and why?" With online marketing, you can't avoid social media. Facebook, Instagram, YouTube, and TikTok bring in over a billion active users every single month, which is why every brand and company utilizes them. However, that doesn't mean each and every platform is right for your business.
For example, suppose your ideal customers are between the ages of 17 and 25. In that case, it's unlikely you will attract many viewers to Facebook anymore as this age group is more likely to use platforms like TikTok or Instagram. Meaning you should create content, products, and your brand's story around these types of platforms.
3. Experiment and Take Creative Risks
As they say, business is a risk, and through threats, you find success. Just because you should start with your audience's platforms doesn't mean you shouldn't branch out and experiment too.
For example, try starting a podcast or going live on Facebook or YouTube to share your brand and see how it sticks with your audience. You can even try other markets like Twitch. Tv, the world's leading live streaming platform for gamers. Just because they're in a certain genre doesn't mean your brand can't design a product or story to fit.
4. Get Their Email Address
Email marketing is not dead. Create free products or affordable products that your customers will love and find useful in exchange for their email. You can now take it even further and get their phone number as SMS marketing is becoming more popular. Then you can further share new stories as you add on more products or services. Be aware that it can easily come off as spam, so don't overshare and keep your messages short and to the point and invite them to read your information further somewhere else.
5. Invite Them to Your Website
Always end your content with a call to action and to where your audience can find you. A great source will always be your website. You don't have to have a blog or a business of physical or digital products to benefit from a website. Websites can be built into membership or community forums and be a great place to add a landing page for any new service, product, or event.
It can also be a perfect place for your customers to reach out to you and ask questions or sign up for your services. Don't make the mistake of relying on social media or other platforms always to be around and have your information. A website is the only way for you to own your own information and have it stored safely.
Free Checklist: How To Build Your Online Brand
The key to marketing is using as many different platforms and resources as you can while keeping your customers the main focus. Know your audience so that when developing your brand, you know what will speak to them.
If you build your brand properly, you can create loyal, lifetime customers who can't wait to tell others about your business. For more information, download my free checklist, Branding For Small Businesses to help you reinforce the objectives of your business and communicate to your audience what your business is.