Can You Improve Your Sales Funnel?
A sales funnel is a tool guideline that helps you visualize where your prospects may make a purchasing decision.

Visually, a sales funnel is a graphic that is wide at the top because prospects with all level of engagement enter there, leading to the most engaged ones channeled through the various levels of the funnel, onto the bottom of the funnel where they have been turned into sales and repeat customers.
It's easier to visualize the funnel stages by looking at an actual sales funnel chart. There are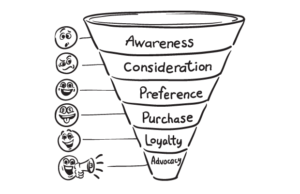 various marketing techniques you can use to improve your sales funnel at each stage of the process.
4 Main Sales Funnel Stages
Engagement (establishing a relationship)
Educate (building the relationship)
Convert (turn prospects into paying customers)
Re-engage (build loyalty and generate repeat business)
FREE Checklist: Create An Effective Sales Funnel
Increase Conversions
Your goal is to keep customers coming back and buying from you again. People can't buy from you if they don't know you exist. They won't buy from you if they don't trust you. To improve your sales conversion strategy you have to work at promoting your brand in order to establish your business as an industry leader.
The most common awareness stage tactics for attracting new prospects and establishing authority are:
You can write about anything related to your product or industry. Don't be afraid to include even loosely related topics. For example, if you sell privacy fencing, it's highly likely that your website's visitors will have an interest in backyard barbecues.
Social Networking and Publishing
Consumers today rely on their social networks to find advice, referrals, and reviews. They expect a business to be available for questions on Facebook and Twitter and look for tutorials and how-to's on Pinterest and YouTube. They also want a behind-the-scenes glimpse of your business on Instagram. Social proof builds trust and helps increase conversions.
Pay-per-click (PPC) campaigns allow you to pay websites for sharing your advertisement. You only pay when someone clicks on your ad or by the number of impressions your ad receives. You can use PPC campaigns to drive traffic to landing pages where you'll convert prospects by capturing their email addresses.
Get Their Email Address
Once someone has become familiar with your business, engage with them. Encourage them to make small commitments to your business even before they're ready to purchase.
The best way to do this is to offer a lead magnet which helps solve their problems in exchange for their email address. A lead magnet is essentially a valuable bribe offered to a visitor in exchange for their contact information. Small commitments like this build to larger ones, like ultimately purchasing your product.
Landing Pages
A landing page is a page on your website with content that addresses one specific problem. It should include a single call to action. Its entire purpose is to capture your prospect's contact information or make a sale. A specific landing page and call to action is much more relevant to your visitor's needs than the homepage on your website, and is more likely to convert.
Calls to Action
For every page of your website, ask yourself, "What do I want this reader to DO?" Do they need to call to set up an appointment? Complete a contact form? Download a checklist or report? Watch a video? Decide the action you want your customer to take and add a clear call to action  multiple times on the page.
Email
You can begin to educate prospects about your business and build trust using a simple email. For example, send an automated email to subscribers with answers to the 10 most frequently asked questions about your service. If you're not doing any email marketing yet, now is the time to get started.
Autoresponder Series and Drips
Drip marketing is a strategy that sends, or "drips," a pre-written set of email messages to customers or prospects over time. When done well, an autoresponder series can move a customer through the crowd and committed sales funnel stages, leading directly to a purchase.
Make the Sale
To improve your sales funnel you have to encourage your customer to buy.  The average customer needs to be offered a product or service 7 times before they're ready to purchase. Give your customer clear opportunities to purchase and do it often.
Free Checklist: Improve Your Sales Funnel
If you're looking for ways to improve your sales funnel, the tips above will help. When you create an effective sales funnel strategy it puts your business on autopilot and consistently turns prospects into paying customers if you structure it the right way. To learn more, you can download my free Sales Funnel Checklist which outlines how to convert customers into sales to produce the results you want for your business.