10 Steps To Make Money With Information Products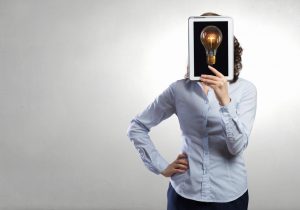 Many online marketers start out as affiliates, earning commissions selling products for other businesses. However, commission rates can vary considerably and many hard-working affiliates don't always get the rewards they deserve. That's why many look to make money with information products that they have created themselves so they can keep 100% of the profits.
So what are information products? Information products are created digitally and are downloaded to the buyer's computer. Sales of information products are booming, and growing all the time due to the "always on" nature of our lives. This is where many people are seldom off-screen and consume content on every device they own – from smartphones to tablets to desktops.
And the beauty of the information product business model is that you create them once, and can sell them again and again.
10 Steps To Make Money With Information Products
It can seem very challenging to sell products or services that are not something that can be held in someone's hand. But, they exist in droves today, so it's getting easier to help someone conceptualize the intangible.
Digital products such as eBooks and multimedia courses are usually fairly easy to put together because you're in control of most of the production process. For example, you could write a short eBook in a day or two and have it up and selling on Amazon within a few hours.
FREE Checklist: How To Write An Ebook

So, what is the best way to get started when you want to make money with information products.
1. Brainstorm
Think of some topics you know a lot about. Write them down.
2. Narrow Down Your Choices
Look over your list of topics and rank them in order, from what you know most down to least. Next, rank them according to which topics you are most interested in and feel passionate about.
3. Choose a Paying Niche
A paying niche is a topic you know people are interested in and spending real money on. Look over your list and jot down a few keywords related to the topics you have come up with. Then go to Amazon and type in the first keyword. Check to see how many books and magazines they have related to that topic. Also check what kind of physical products are being sold. If you find a lot of items, it's a paying niche. If not, consider the next niche on your brainstorming sheet, and so on, until you find a winner.
4. Know Your Niche
Once you have chosen a niche, start spending time with people interested in it. Try Facebook groups, discussion boards and so on. Look at the bestsellers' lists at Amazon. What kind of titles look really interesting? What do the reviews say? Could you write a better eBook on that topic?
Know what is currently on sale in your niche, and plan on how to go at least one better. For example, read the reviews and testimonials. What does it do well? Is it missing anything? What unique spin can you put on the material that will show your expertise?
5. Identify Pain Points
A pain point in a niche is something that people tend to struggle with, especially when they're first starting out. It might be their golf swing, or the best way to potty train their puppy. Know what your target market wants, and give it to them.  Think of real needs and – problems your target audience have related to your niche, which you can offer real solutions to.
6. Choose a Digital Format
Information product ideas include:
eBooks

Reports

Checklists

Audio files

Video files

Infographics
Choose one, or try them all and create a multimedia course. Having said that, since you want to get your first product to market quickly. A short eBook about a pain point you can address is ideal. The more expensive the item, the more time it will usually take. You can get a lot more money for a multimedia course. But it will have a lot more moving pieces to it, such as audio or video. You may have to outsource some of this work to create an impressive package.
7. Write the eBook
Jot down an outline, flesh out the ideas, and create a copy in Word or another word processing program. If you don't type very fast, use a dictation program like Dictation.io, review the content for errors, and you'll have an eBook. Give your eBook an interesting title. How-to titles may not sound too exciting, but they are very popular. Describe what they will learn in a way that sounds compelling.
8. Design a Cover
People really do judge a book by its cover, so invest the time to come up with a great one for your digital item. If it is an eBook, it should look like a traditional book cover. If it is a multimedia product or course, you can make it look like a book or a DVD cover. You don't have to be a professional designer to create an eye-catching cover. There's lots of easy to use software available online to help you create your own design or you can outsource your design work to a freelancer.
9. Publish and Start Selling
This is the best part. The ebook is done, now you have to promote it! To make money with information products requires you be a good communicator. You have to be willing to take the time to educate your audience so that they gain your trust. You can educate them with an email autoresponder series, videos, blog posts and webinars.
If you want people to purchase your information products, you have to ensure that you develop enough trust with your audience so that they are open to making the purchase. You can do this by offering a guarantee of some kind. Since they cannot touch the item before buying, eliminating issues can go far in helping people make a purchase.
10. Get Others To Sell It For You
List your digital product at JVZoo or ClickBank. In this way, you can get people to sell your products for you in exchange for a commission. If your target audience starts to see your product everywhere, it shows it's worth paying attention to. The return on investment might be lower for each product now that you have to split the profits with a sales person, but the rewards can be enormous too.
Free Checklist To Help You Make Money With Information Products
You might think that the work to run an information selling business is too much. There's the research, writing, formatting, publishing and marketing that all need to be done. But the creation of an eBook isn't as hard as some people make it out to be. If you follow a proven system that has worked for others you can take advantage of one the most successful online business models. To learn more on how to make money with information products, download my free checklist How To Write and Sell an eBook.