What Online Marketing Methods Work?
These days, whether you have an online business or an offline business, you must utilize some online marketing methods if you're going to succeed.

FREE Checklist: Common Online Business Mistakes You MUST Avoid
Most people use their mobile devices to search for and find information about their problems and how they can make their life easier, more comfortable or more fulfilling. If your potential customers can't find you online it'll be hard for you to compete in today's digital world.
This is a short guide to the various types of online marketing methods that exist today. You can use any of these ideas in your marketing right now. If you don't do one of these types of marketing, consider adding it to your strategy.
8 Proven Online Marketing Methods
1. SEM (Search Engine Marketing)
Search engine marketing consists of using both paid and unpaid content marketing to get people to visit your website or landing pages. You can use search terms within the content, as well as create ads with search terms for paid marketing that focuses on search terms.
2.  Social Media Marketing
Having a good social media presence can work like word-of-mouth marketing if your followers  share, click, like or comment on your published posts. You should always aim to post something that means something, that has a reason for being and a goal in mind. There are several reasons to share content on social media.:
Educate
Entertain
Spread Awareness
Persuade
Establish Your Brand
Connect with Others
It's important to understand that using organic methods is the long haul. A fast way to get more reach and make more conversions if you have the right content is to pay for advertising on social media.
FREE Checklist: Online Business Mistakes You MUST Avoid
3. Content Marketing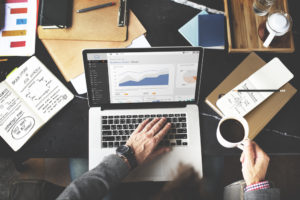 In many ways, everything involved with digital marketing focuses on the content you publish, whether it's text, images, video, audio, etc.  Your content can engage, inform, encourage and convert your audience, depending on where they are in the buying journey.
You can get to them at any point in the process, from before they're aware of their problem to after awareness and before purchasing. You can even reach them after they purchase to provide product education.
4. SEO (Search Engine Optimization)
Search engine optimization (SEO) involves using the information provided by the search engines to optimize every page on your website in such a way that the search engines find your website and send your information to their audience. You need to do certain things that keep the search engines happy. When you take action in your business according to particular SEO methods and systems, you effectively tell the internet what your business is about. Without smart SEO practices, Google and the other search engines may never index your website and the only way your audience will find you online is by sheer luck.
5. Email Marketing
Email marketing is effective because most consumers now regularly access their emails on their smartphones and mail is still a preferred form of communication. Really a part of content marketing, building an email list is one of the most effective online marketing methods.  When you get prospects on your list, you can market to them directly and personally the products and services you want them to buy and use.
6. Affiliate Marketing
Affiliate marketing is where your products and services are sold by other people and you pay them a commission on everything they sell. Affiliates are like salespeople who get paid only when they make a sale. Having affiliates to promote your products and services is like having a legion of fans screaming your name. They'll blog about you, promote you, and be excited about it. If you're offering a great product or service, they know that it makes them look good. After all, their job is to promote things to their audience that solves their problems. Your product could be the answer. Create an amazing affiliate program with graphics and content, make it cut-and-paste easy for affiliates to promote you, and it will be successful.
FREE Checklist: Online Business Mistakes You MUST Avoid
7. Relationship Marketing
Today, building online communities is very important to help you build online relationships with your audience in the digital age. The days of hiding behind your computer are over. You'll need to have live events, webinars, and lots of discussions with your community to engage with them.
8.  PPC (Pay Per Click)
Most online businesses today need to pay for some marketing. The best type is PPC (pay per click). This means you only pay when someone clicks your information. That way, you have more of a chance to get them to your landing pages, content, and products. You can also  remarket to them once they come to your website too.
Free Checklist: 10 Mistakes to Avoid with Online Marketing Methods
All these types of online marketing methods work together to create a digital marketing strategy that will perform well. Focus on perfecting one type of marketing at a time and remember we all make mistakes. We wouldn't be human if we didn't.
In the world of online business, you're going to make some minor boo-boos and some cataclysmic mistakes. It's all part of the learning process. Although mistakes are going to happen, you can avoid the common online marketing mistakes and other pitfalls that are lurking around the corner. Download my free checklist, 10 Online Marketing Mistakes, and avoid the false moves and slipups that even veteran online entrepreneurs and bloggers make.