A blog post is an article you write and publish on your website. Blogs are an important part of making money if you want to run a successful business online.
Blog posts typically include a title, content, and a featured image. You can also include other media, such as videos or infographics. Blogs are important because they help you attract visitors to your website and build relationships with your readers. In addition, by providing valuable, informative, and engaging content, you can encourage people to keep coming back to your website.
Here are 9 simple tips to help you create better blog posts.
FREE Download: 21 Days To A Better Blog
How To Create Better Blog Posts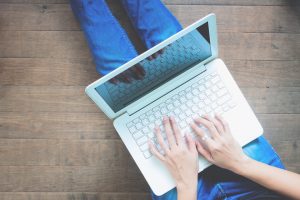 Blog posts can help you rank higher in search engine results, leading to more website traffic. The frequency of your blog posts will depend on your goals and your audience. If you're just getting started, it's good to publish new content at least once a week. As you build up your blog, you can increase the frequency of your posts.
But what makes a great blog post? How do you make sure posts are engaging, informative, and drive traffic or conversions?
Creating better blog posts doesn't have to be complicated. Just follow these 9 simple tips, and you'll be on your way to writing posts that engage, inform, and convert.
1. Start with a Catchy Headline
The first thing your reader is going to see is your headline. This means you need to be sure it grabs their attention and is relevant to their needs to continue to the post. A good headline should be about 6 to 8 words long and include keywords that describe your article.
2. Write an Engaging Opening Paragraph
The opening paragraph of your blog post is critical in hooking readers and keeping them engaged. So start strong with a catchy opening line that will make readers want to keep reading.
3. Keep it Short
No one likes to read long, drawn-out articles. Posts that are between 300 and 600 words can be read quickly and easily. So, focus on quality over quantity – make sure every word counts!
4. Use Images, Infographics, and Videos
People are visual creatures – break up your text with images, infographics, and videos to add interest and keep readers engaged. Just make sure all your visual content is high-quality and relevant to your article.
5. Use Helpful Formatting Techniques
Formatting your blog post in an easy-to-read manner will help keep readers engaged. Use short paragraphs, bullet points, and subheadings to break up your text and make it easy to scan.
6. Write in a Natural and Conversational Tone
No one wants to read a blog post that sounds like a robot wrote it. Write in a natural, conversational tone to sound more relatable and approachable.
7. Use Strong Calls to Action
Throughout your blog post, include calls to action (CTAs) that encourage readers to take the next step –signing up for your email list, downloading a free guide, or purchasing. Make sure your CTAs are clear and concise so readers know exactly what you want them to do.
8. Optimize for Search Engines
If you want your blog post to be found by potential readers, you need to optimize it for search engines. Do your research to find the right keywords to target, and then use those keywords throughout your article, but don't overdo it.
9. Promote Your Blog Post
Just because you hit "publish" doesn't mean people will automatically see your blog post. You need to enthusiastically promote it through social media, email marketing, and other channels. Share your article with your followers and ensure it gets in front of as many people as possible.
Free Download: 21 Days To A Better Blog
A blog is essentially a relationship-building tool. Consistency and real interest or skill within your industry with a consistent action plan are what it takes. When you know about blogging correctly it becomes a valuable asset to your online business. To discover more about what every blogger should have to be successful, download my free checklist, 21 Days To A Better Blog to help you start creating better blog posts.